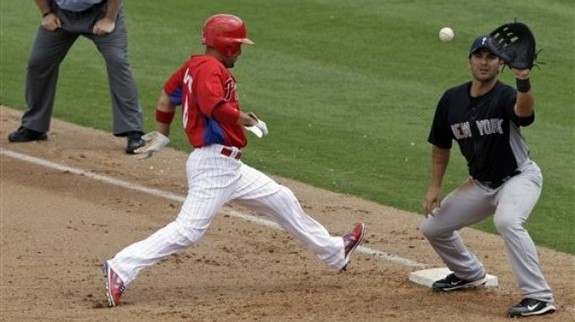 The Yankees played two games today, one at home against the Twins and one on the road against the Phillies. Ivan Nova pitched better than his line (7 IP, 7 H, 4 R, 4 ER, 0 BB, 5 K) indicates against Minnesota, getting a lot of weak contact and whiffs on his offspeed stuff. Mariano Rivera and Rafael Soriano threw flawless innings as well. Eduardo Nunez was the star of the day, smashing a pair of doubles and hitting everything hard. The Yankees rallied from a four-run hole when Mason Williams drove in the go-ahead run with an infield single. Here's the box score for this game, which they won 6-4.
Hiroki Kuroda allowed one run in 5.2 IP against Philadelphia, getting 15 of his 17 outs on the infield. Brett Gardner (double), Frankie Cervelli (single), Robinson Cano (double), and Eric Chavez (single) had the Yankees up 3-0 before Vance Worley even recorded an out. Cano had three hits, Cervelli had two, and Doug Bernier had two more as well. He's been mashin' all spring. New father David Phelps allowed two runs in his 3.1 IP. The Yankees won this game 5-3; here's the box score. Here is the rest of the news from Tampa…
Derek Jeter played three innings in the home game this afternoon by design. Joe Girardi said during the broadcast that Jeter will play five innings in a game at some point this weekend. This was the Cap'n's first game back following his calf problem.
Andy Pettitte faced six batters and threw 26 pitches in a live batting practice session this morning. "Everything was good," he said afterward. "I'm pleasantly surprised. I don't want to get over-excited because I haven't done anything yet, but I expect to be back to where I was." [Erik Boland & Jack Curry]
David Robertson faced seven batters in his 29-pitch session this morning. He struggled to find the strike zone, but that's not exactly something new for David. He could get into a game for the first time since injuring his foot relatively soon. [Curry]
Manny Delcarmen (lat) also threw batting practice today. He has yet to get into a game this spring. Michael Pineda and Phil Hughes each threw their regularly scheduled side sessions. [Chad Jennings]
Of course, the big story of the day was Joba Chamberlain's horrifying ankle injury. I hope he crushes his rehab and we see him back on the mound for the Yankees as soon as possible.
Here's your open thread for the night. The Rangers, Devils, Knicks, and Nets are all playing tonight, plus MLB Network will air a game a little later on. You folks know what to do, so have at it.