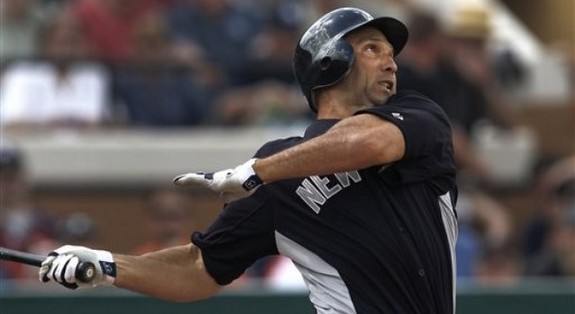 The Yankees and Astros played Homerun Derby this afternoon, with the good guys coming out on top 5-4. They also won the rain-shortened game 11-9. Robinson Cano hit his second jack of the spring, Raul Ibanez hit his third (woulda been fourth if it wasn't for Jason Heyward), Jose Gil got hit first, and — get this — Dante Bichette Jr. hit not one, but two dingers. He only saw two pitches too [Marc Carig]. Now that's pretty cool.
Adam Warren's final bid for a bullpen spot didn't go well; he gave up six runs on ten hits in 5.2 IP. Now that he has a virtual lock on the second lefty job, Clay Rapada went ahead and gave up a homer to the left-handed hitting Brian Bogusevic. How about that timing? Here's the box score and here's the rest from Tampa…
Andy Pettitte threw a 33-pitch live batting practice session this afternoon, calling it "another step in the right direction." Joe Girardi was pleased, but it seems unlikely that Pettitte will get into a game before the end of Spring Training. [Bryan Hoch & Erik Boland]
George Kontos is dealing with a blister, which isn't that big of a deal given all the other injury stuff going on around camp. [Chad Jennings]
In case you missed it, we have some Michael Pineda (shoulder tendinitis) and Cesar Cabral (stress fracture in his elbow) injury updates earlier today.
Here is tonight's open thread. The Devils, Knicks, and Nets are all playing tonight, plus MLB Network will be airing a game later on tonight. Talk about whatever you want here, go nuts.