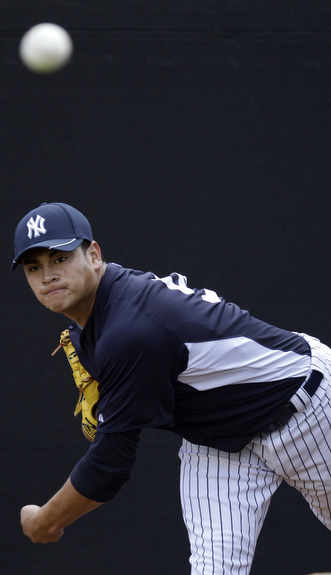 If you've been reading RAB long enough, you're well aware of our annual Prospect Watch. The idea is simple. We pick a prospect, and throughout the regular season we track his progress in the sidebar, specifically his most recent (i.e. last game) and overall season performance. Past Prospect Watch subjects include Phil Hughes, Joba Chamberlain, Andrew Brackman, Jesus Montero, and last year, Manny Banuelos. Needless to say, some years have been better than others.
Rather than just pick a prospect and run with it this year, we're going to try to something new. For the first time ever, you folks will be able to pick our 2012 Prospect Watch candidate by voting in the poll at the end of the post. As you can tell from our previous watches, we're looking for star power here. Solid and consistent is nice and all, but the Prospect Watch is all about holy crap performances. The occasional 4-for-5 with two doubles and a homer out of Montero made all the 0-for-4 with two strikeouts worth it.
I've taken the liberty of picking five candidates for this year's prospect watch, all of whom are among the team's seven best prospects. They're all slated to spend the season in a full season league as well, which is key. With all due respect to Ravel Santana, no one feels like waiting until the NY-Penn League season kicks off in late-June for the Prospect Watch to go up. Here are those five candidates, listed alphabetically with a short little blurb…
Manny Banuelos, LHP
We've never had a two-time Prospect Watcher, but I'm not opposed to idea at all. That's just the way things shook out in the past. Armed with a new cutter, Banuelos is scheduled to start the year with Triple-A Scranton and is poised to join Joba as the only player to go from RAB Prospect Watch to the big leagues in the same season.
Dante Bichette Jr., 3B
The Yankees first round pick just last season, Bichette took home Rookie Level Gulf Coast League MVP honors last year and will start his first full pro season with the Low-A Charleston River Dogs. He's an all-around hitter with patience and power, capable of long hit streaks and long homers.
Jose Campos, RHP
Acquired from the Mariners as part of the Montero-Michael Pineda swap, Campos destroyed the Short Season Northwest League last year and will join Bichette in Charleston. His big fastball and surprisingly excellent command should lead to a ton of performances DIPS disciplines will love. That means lots of strikeouts and few walks.
Gary Sanchez, C
With Montero gone, Sanchez is now the best hitter in the organization. Last year with Charleston he hit the same number of homers (17) as Montero did at the same level in 2007, just in 226 fewer plate appearances. Sanchez could spend the first few weeks of the season back with the River Dogs, but a trip up to High-A Tampa seems inevitable at some point this summer.
Mason Williams, CF
Williams isn't just another cog in what figures to be a dynamite Low-A lineup in 2012, he's going to set the table and bat leadoff. His huge showing with Staten Island last season vaulted him up prospect lists, and now he's the Yankees best all-around position player prospect.
* * *
The minor league seasons begins next Thursday, the day before the Yankees open their 2012 regular season in Tampa. The poll will remain open through the weekend. Thanks in advance.
Who should be featured in the 2012 Prospect Watch?