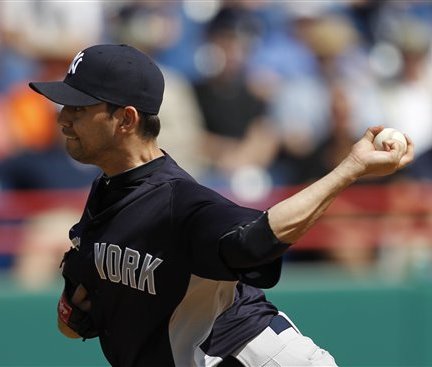 It as appears as though the Yankees only have one open relief spot at the moment, assuming the loser of the Phil Hughes/Freddy Garcia fifth starter competition heads to the bullpen. With three rounds of roster cuts already in the books, the number of realistic candidates for that last spot is down to just two: left-handers Clay Rapada and Cesar Cabral.
The Yankees have been looking for a second left-handed reliever for a few too many years, but now they appear to have a pair of qualified candidates. Rapada and Cabral share handedness but not much else. They're different pitchers with different styles at different points of their careers. Which one is a better fit for the Yankees?
The Case for Rapada
A 31-year-old journeyman, Rapada has impressed by retiring all but one of the 12 left-handed batters he's faced this spring. The one exception is a walk (after getting ahead in the count 0-2, no less), but he's atoned by striking out seven of the remaining 11 batters. Rapada's big league track record is limited, though he has held the 136 lefties he's faced to a .153/.252/.200 batting line with a 26.5% strikeout rate. His Triple-A track record is more of the same.
Rapada has been groomed as a lefty specialist since the day he signed with the Cubs as an undrafted free agent in 2002. They dropped his arm angle almost immediately, and now he relies of the deception of his sidearm motion more than sheer stuff — mid-80s heat with a mid-70s slider — to get same-side hitters out. He's a true LOOGY and has excelled in the role over the last few years. There should be no growing pains.
The Case for Cabral
Cabral, a 23-year-old taken from the Red Sox (via the Royals) in this past offseason's Rule 5 Draft has impressed as well this spring. He hasn't been as good as Rapada, but he's struck out eight of the 20 left-handers he's faced while allowing six hits and walking zero. One of those hits was a homer. Cabral moved to the bullpen full time to start the 2010 season, and since then he's held same-side hitters to a .202/.263/.294 batting line with a 35.4% strikeout rate in 133 PA. That's mostly at High-A with a little Low-A and Double-A mixed in.
The Yankees obviously like Cabral, otherwise they wouldn't have gone through the trouble of trading up in the Rule 5 Draft to get him. He's more of a power pitcher than Rapada, sitting in the low-90s with a changeup and a slurvy slider. The changeup is his best secondary pitch, which theoretically means Cabral could face some right-handed batters and at least hold his own. He has all three minor league options remaining and is under team control through at least 2017. With zero Triple-A or MLB experience, there figures to be more than the usual ups and downs associated with young pitchers.
* * *
Unless something unexpected happens, the Yankees can only break camp with one of the two. Rapada can opt out of his minor league deal at the end of Spring Training, and he'll surely get a job elsewhere given his spring performance. Because he is out of minor league options, the Yankees won't be able to add Rapada to the 40-man roster and send him to Triple-A. Cabral simply won't clear waivers as a Rule 5 Draft pick, he's been too impressive as well.
The last bullpen spot won't sink the season, and as far as I'm concerned, there's really no wrong answer here. Both Rapada and Cabral are worthy of being the second left-handed reliever on a contending team.
Who should the Yankees take as the second lefty?