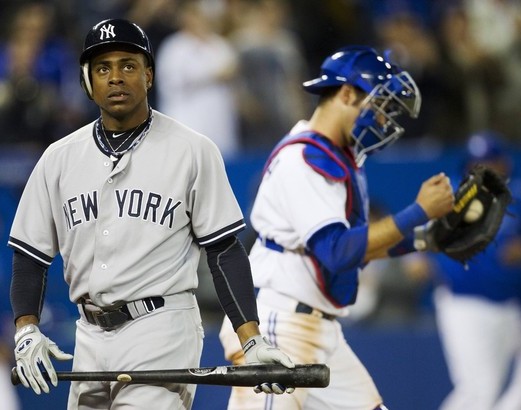 I don't know if there's anything in baseball more frustrating than an underachieving team. If there is, I'm not sure I want to know. The Yankees have underachieved through their first 37 games of the season, but don't confuse underachieving with being bad. They've played okay at best overall, but that's not what they're capable of. They haven't played up to their full potential, specifically the starting pitching last month and the offense this month.
Last night's 8-1 loss to the Blue Jays marked the eighth time in their last 16 games that the Yankees were held to two runs or less. That's very hard to swallow. They've hit just .258/.323/.425 during those 16 games compared to a .279/.354/.479 performance in their first 21 games of the season. Their strikeout rate has gone up (15.7 K% vs. 18.4 K%) and their walk rate has gone down (10.2 BB% vs. 8.1 BB%) during those two admittedly arbitrary samples. Maybe the only difference between the first 21 games and the last 16 games is Derek Jeter's ridiculous hot streak. Who knows?
Is the offense going to come around at some point and start clicking on all (or at least most) cylinders? Yeah probably. It'll be glorious when it happens but I don't expect it to happen anytime soon. The Yankees appear content to just keep running the same ol' lineup out there every night and hope that these problems will just correct themselves, which is fine I suppose. I wish they were a little more proactive with making slight changes — dropping Mark Teixeira in the lineup, moving Raul Ibanez and Nick Swisher up, etc. — but there's value in patience. It's just tough to expect improvement when no changes are made.
One thing that I do believe is very important right now is getting Curtis Granderson a day off. I don't mean sometime this weekend or early next week, I'm talking tonight on the turf in Toronto. Granderson's started every game of the season in center field and he's stuck in a 5-for-36 rut at the moment (four of those five hits are homers, ironically enough), so let's get the man off his feet for once. It may help re-ignite his bat or it may not, but I do know that fatigued players are less effective players. A day of rest for Curtis could end up helping the offense in a big way.
There are still 125 games to go this year and that's great news because the Yankees are going need all the time they can get to figure this thing out. They're lucky the AL East is so competitive right now because no team has really run away with the division yet. Sitting 3.5 games back in mid-May is nothing, not when there are so many intra-divison games left to play. The Yankees don't need a shake-up or anything drastic, but they do need to start showing signs of improvement. Talk is cheap; it's not all that early in the season anymore and the excuses are starting to run out. This is a results town and the results haven't been there this month.