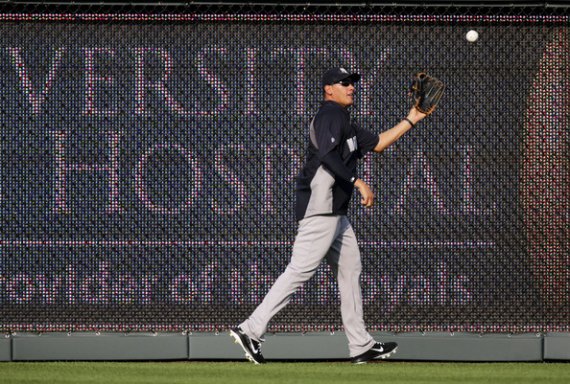 Freddy Garcia would probably like a mulligan on 2012. Things started to look down for him as early as January, when the Yankees traded for Michael Pineda and signed Hiroki Kuroda on the same night. With those two added to the rotation, it appeared that Garcia might have been the odd man out. In fact, throughout spring training it appeared that he'd end up in the bullpen, giving chances to Pineda and Phil Hughes.
Pineda's injury opened up that rotation spot for Garcia, and given his spring performance he seemed to deserve it. But the season has been anything but kind to him. It started with an outing against Baltimore in which he uncorked five wild pitches while allowing four runs in 4.2 innings. After allowing at least five run in each of his next three outings, the Yankees removed him from the rotation. Now he languishes in the bullpen, reserved for true mop-up situations.
Yet in his three relief appearances, all consisting of two innings, he has pitched very well. All in all he has allowed one unearned run on three hits and two walks. He has struck out four, though three of them came in his last outing. Oddly enough, though, he's generated just one swing and miss during that period. But even without the whiffs he's still thrown strikes, 64 percent of his 88 pitches. He's also seen an uptick in his velocity, averaging just under 90 mph with his sinker — about 2 mph faster than it was in April while in the rotation.
With the bullpen injuries, many players will see their roles change. Boone Logan could see some higher leverage spots. As Dan Barbarisi writes in the Wall Street Journal, Cory Wade has become more vital. Yet as with the previous setup corps of Robertson and Soriano, these guys can't take all of the setup innings. The Yanks will need others to step up. While se might see potential in the young Phelps, there is still Garcia to consider. The Yanks are paying him and apparently aren't going to cut him. So why not see what he can deliver out of the pen? The results so far have been encouraging, at least.