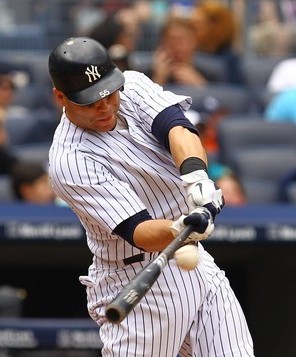 The Yankees finished off the sweep of the Mets yesterday thanks to not one, but two homers — including the walk-off dinger — by catcher Russell Martin. He's hit .319/.418/.681 in his last 15 games and .261/.369/.545 in his last 29 games dating back to the start of the Royals series in Kansas City. Sure, his first homer on Sunday was a total Yankee Stadium cheapie that hit off the top of the wall and took a fortunate bounce, but a few weeks ago Russ wasn't even able to hit the ball to right field.
"I felt like I was getting tied up inside and I felt like I was starting to pull off the ball early with my stride," said Martin after yesterday's game. "Now I kind of just evened out my stride, and I feel like I'm ready to drive the ball the other way more with more ease. I was fighting to do it before."
Hitting coach Kevin Long expanded on the idea of Martin evening out his stride, saying he's backed off the plate a bit and is now able to turn on the inside pitch. "He was frustrated a little bit, but he kept believing that all his hard work — everything he'd done through the winter and up to this point — was going to pay off," said Long. "It's starting to show real good signs, especially this month. He's been on fire."
Martin was offensive dead weight for the first six or seven weeks of the season, carrying a .173/.321/.318 batting line into the recent West Coast trip before really turning things around. He was walking enough — 13.5 BB% this year — to keep from being a complete back hole offensively, but he lacked impact when he actually swung the bat. As you can see, he's gone from constantly beating the ball into the ground to actually getting some loft and hitting it to the outfield…
This recent hot streak has Martin sitting on a 116 wRC+, the tenth best mark among catchers with at least 150 plate appearances. His .348 OBP ranks eighth. Russ is never again going to be the monster he was earlier in his career with the Dodgers, but the Yankees aren't exactly asking him to be that guy. It would be nice if he was, but it isn't imperative. He's hitting mostly ninth in the lineup and like so many nine-hole hitters before him, he just has to be something more than an automatic out. Martin's recent adjustment has him driving the ball to right — five of his eight dingers have gone the other way — and have helped him take advantage of the short porch.