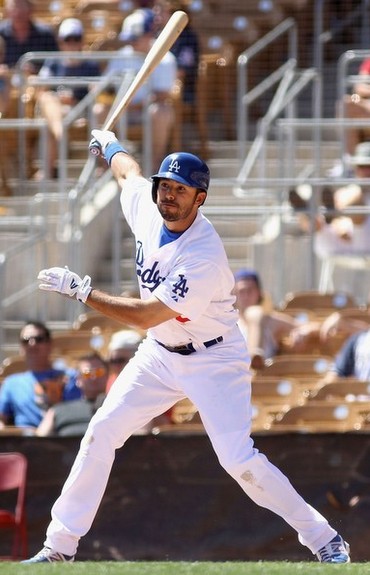 While you were sleeping last night, news broke that the Dodgers and Andre Ethier had agreed to a five-year. $85M contract extension with a vesting option for a sixth year that could push the total value north of $100M. It's the third largest contract in franchise history behind the Matt Kemp and Kevin Brown deals and one of the 15 richest contracts ever for an outfielder. Ethier was scheduled to hit free agency this offseason but instead decided to stay in Los Angeles for a rather healthy sum.
Baseball Time in Arlington has already looked at the impact this deal will have on Josh Hamilton and the Rangers — presumably one fewer suitor now — but it also trickles down to the Yankees. Nick Swisher is scheduled to become a free agent this winter and like Ethier, he's a very good but not elite corner outfielder in his early-30s. They've produced similar offensive (127 vs. 124 wRC+ in favor of Ethier) and defensive (-12 vs. -14 DRS* in favor of Swisher) numbers since the start of 2009, though Swisher has played in at least 150 games in each of the last six seasons while Ethier has done so just twice in his career and not since 2009.
* Defensive metrics are quite ambiguous, so if you look at UZR it's Swisher in a landslide: +5.4 vs. -24.6.
Obviously Ethier is having the far better season in 2012 — 131 wRC+ and 2.2 fWAR vs. 105 and 0.4 for Swisher — and that's part of the reason why the Dodgers were so desperate to re-sign him. He's a fan favorite and while he's not truly homegrown, he's never played for another big league team. He's gotten MVP votes and been to multiple All-Star Games, plus he has a "clutch" reputation. All of that helped Ethier land this massive contract and is stuff Swisher doesn't have going for him, but when you get down to the nuts and bolts of it, their actual production on the baseball field, Swisher is a comparable player if not better than baseball's newest $85M.
That said, I can't see any way Swisher will land a contract that big this offseason without a Bonds-ian finish to the season. At the same time, my hopes of seeing the Yankees bring him back for Michael Cuddyer's contract — three years and $31M — inflated upwards by 25% or so now seem pointless. Maybe I was being naive in the first place, I'm great at underestimating future free agent contracts. There seems to be little chance of Swisher signing a modest little three-year pact no matter how much he loves New York, which leaves the Yankees in a bind because they don't have an ready-made outfield replacement and are trying to get under the $189M luxury tax threshold within the next 18 months or so.
Perhaps Brett Gardner's elbow injury and latest setback is a blessing in disguise. Maybe it will force the Yankees to look to the trade market for a replacement outfielder, someone that could play left in Gardner's stead this year before taking over right field next year. I don't know who that guy would be, but it's a possibility. Much like Yadier Molina and the catching market, Ethier's contract really skewed the outfield market for this coming offseason. Swisher, Hamilton, Michael Bourn, B.J. Upton, and Shane Victorino now all have a pricy benchmark to reference in contract talks, and that doesn't help the Yankees one bit.