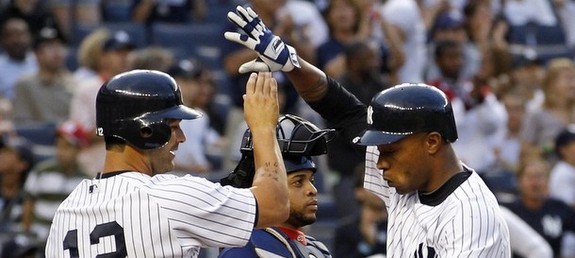 Tonight's game will be an interesting test for both the offense and Phil Hughes. The homer-happy offense will have to deal with Justin Masterson and his turbo-sinker, which is the reason why he has the lowest homerun rate (0.52 HR/9) in the AL since the start of last season. Hughes will have to face an Indians' lineup featuring seven left-handed batters and two switch-hitters. Phil has held righties to a .308 wOBA in his career but lefties have gotten him for a .337 wOBA. It's worth noting that he has a (quiet massive) reverse-split this season. Here's the starting lineup…
SS Derek Jeter
CF Curtis Granderson
3B Alex Rodriguez
2B Robinson Cano
1B Mark Teixeira
RF Nick Swisher
DH Raul Ibanez
LF Dewayne Wise
C  Chris Stewart
RHP Phil Hughes
Tonight's game starts a little after 7pm ET and can be seen on My9. Enjoy.
HOPE Week: Chad Jennings has the details on today's HOPE Week event, which focuses on 48-year-old Jorge Munoz and his non-profit organization that distributes hot meals to New Yorkers in need.
Russell Martin Update: Martin (back) is going to take batting practice today and if that goes well, he'll start behind the plate tomorrow. Hooray for that.
Brett Gardner Update: Gardner (elbow) will take some dry swings next week when the team is in Tampa to play the Rays. Joe Girardi said a return before the All-Star break is unrealistic and that late-July is more likely.