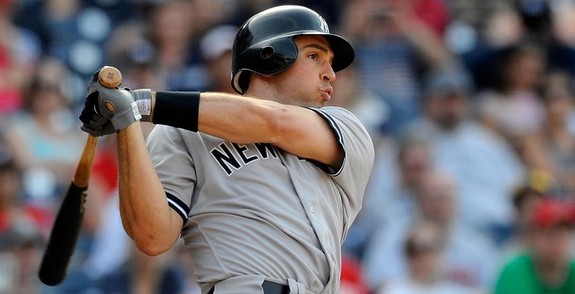 Mark Teixeira has been under the microscope since the moment he spurned the Red Sox for the Yankees in December 2008. He responded with an MVP caliber season in 2009 but saw his performance suffer in 2010 and further in 2011. Through the first 38 team games of the 2012 season, Teixeira's batting line sat at a meager .228/.283/.386, well below even his normal slow start standards. It appeared as though his offensive decline was continuing even further.
At the same time, Teixeira was battling what was ultimately diagnosed as nerve damage to his vocal cords. Joe Girardi decided to give his first baseman three days off in mid-May in an effort to get his cough under control, a three-game series against the Reds. Since that little rest, Teixeira has hit .291/.396/.564 with nearly as many walks (18) as strikeouts (20) in 134 plate appearances. It's obviously not the biggest sample in the world but it is vintage Mark Teixeira, a glimpse of the guy we were all hoping to see this season.
"I had a moment where I had to tell everyone I am who I am," said Teixeira to Joel Sherman over the weekend, referring to the calls for him to hit the ball the other way. During those three games on the bench he decided just to give up on his efforts to beat the shift and get back to being the guy that was so successful in the past. "I am going to swing hard, strike out a bunch* and pull stuff."
The funny thing is that when you look at his spray charts against right-handed pitchers — before the Reds series, after the Reds series (per Texas Leaguers) — it's tough to see much of a difference. Most of the balls Teixeira put in play before the three days rest were to the pull side with a handful out to left, ditto the balls he's put in play since those three games off against the Reds. He says his process is different and the results certainly have been, so I'm not going to argue with him. At the end of the day, I really only care about what he produces. I don't want to get picky about how he does it after these last two years.
The offense's general inability to hit with runners in scoring position has masked some otherwise stellar production of late, and I'm not just talking about Teixeira. Robinson Cano has hit .333/.411/.714 in his last 45 games and Nick Swisher has hit .345/.415/.672 in his last 17 games. Yes these are arbitrary end points, though you all know that those three weren't hitting earlier in the season and now they are. They're a big part of the reason why the Yankees have won 23 of their last 30 games, especially the pull-happy Teixeira.
* This continues to be the most misunderstood part of Teixeira's game, and apparently even he buys into it now. You'd expect him to strike out a bunch as a power hitter, but his strikeout rate is just 12.9% (!) this year. The league average is 19.6%. His career average is 17.0%. The guy simply doesn't strike out that much, especially compared to other power hitters.