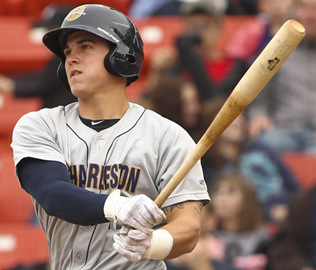 The minor league season is a little more than halfway complete, with the four full-season affiliates having already played at least 74 games out of their 144-game schedules. That means promotions should be upon us, and in fact this week's Dellin Betances demotion might represent the start of a wave of player moves. Josh Norris recently spoke to someone who said to expect some movement in about a week, and last night the Yankees bumped righty reliever Nick Goody up from Short Season Staten Island to Low-A Charleston. He'll be the first 2012 draftee to appear in a full-season league.
The Yankees have already made some very minor promotions, like Mikey O'Brien to Double-A Trenton and Chase Whitley to Triple-A Empire State, but the most notable moves should come very soon. Here's a preview of what could be in store in the next week or two…
C Gary Sanchez to High-A Tampa
This one seems like a total no-brainer. Sanchez is repeating Low-A Charleston and doing so in a big way — .304/.357/.534 with 13 homers and 11 steals (!) in 277 plate appearances. He's also played ten fewer games behind the plate than last year and has 16 fewer passed balls. A move up to Tampa would force Sanchez to split catcher and DH duties with J.R. Murphy, which they did for the first few weeks of last season. Murphy is having a great June — .316/.354/.494 with three homers — but his overall performance (.260/.324/.374) has been underwhelming. Splitting catching duties is not ideal, but Sanchez needs the promotion and it will help keep both guys from wearing down in August and September. As an added bonus, Francisco Arcia and his .305/.393/.495 batting line would get a chance as the full-time catcher for the River Dogs once Sanchez is promoted.
OF Tyler Austin to High-A Tampa, OF Rob Segedin to Double-A Trenton
Moving Austin up is another no-brainer. He's been the best hitter in the farm system this year, with a .328/.408/.621 batting line to go with 14 homers and 17 steals in 292 plate appearances for Low-A Charleston. It's pretty clear that he isn't being challenged enough at the level, so move him on up. In a corresponding move to clear an outfield spot, Segedin can move up to Trenton. He's hitting .291/.359/.446 in 312 plate appearances this year after finishing last season in Tampa. The Thunder outfield is pretty packed with the Almontes (Abe and Zoilo) and Melky Mesa, but Cody Johnson's injury and Neil Medchill's general non-prospectness free up the DH spot. Segedin can also play third on occasion.
RHRP Phil Wetherell to High-A Tampa, RHRP Mark Montgomery to Double-A Trenton
Wetherell's numbers are not eye-popping — 5.05 ERA with 38 hits allowed in 35.2 innings — but he's missing bats (9.3 K/9 and 23.3 K%), limiting walks (3.3 BB/9 and 8.2 BB%), and keeping the ball in the park (just one homer allowed). As a 22-year-old college reliever, there's only so much to be gained from facing Low-A hitters. Montgomery, on the other hand, has the huge numbers — 1.54 ERA with 53 strikeouts (13.6 K/9 and 38.1 K%) and 12 walks (3.1 BB/9 and 8.6 BB%) in 35 innings — and the wipeout slider to back them up. A short reliever with a breaking ball that good should overwhelm Single-A competition like Montgomery has, and now it's time to get him up to the next level.

LHSP Vidal Nuno to Triple-A Empire State
The Betances demotion as well as the Adam Warren recall thinned out the Triple-A rotation in a hurry. They still have D.J. Mitchell, Ramon Ortiz, and John Maine in their regular spots and could pull Nelson Figueroa and Mike O'Connor out of the bullpen, but moving Nuno up should also be a serious consideration. He's an older guy (25 next month) the Yankees plucked out of an independent league last season and he's done nothing but dominate since joining the organization: 154 strikeouts (8.1 K/9 and 22.8 K%) and just 32 walks (1.7 BB/9 and 4.7 BB%) in 171 innings. Nuno has been stellar since moving into the Double-A rotation last month, allowing just four earned runs in 40.1 innings across seven starts. The Yankees lack left-handers in the system and moving Nuno up gives them a chance to evaluate him at the highest possible level.
* * *
Last month I wrote about the idea of promoting Mason Williams based mostly on his insane contact rates, though I could see it going either way. I would understand if they bumped him up to Tampa or kept him in Charleston, there are viable reasons to do both. Sanchez and Austin are the definite promotions though, ditto Montgomery. The four (really six) moves listed above seem like the most logical ones to make this July.