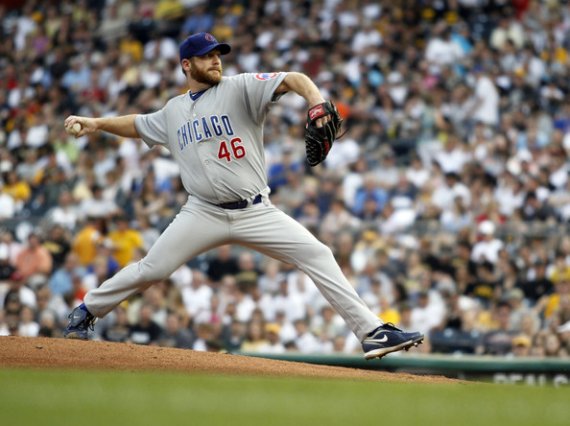 If a columnist connects an available player to the Yankees, you can bet it will get widespread publication in the major baseball blogs. It wasn't a surprise, then, to open up Hardball Talk and see the headline, "Yankees, Dodgers are interested in Ryan Dempster." Gordon Wittenmyer of the Chicago Sun-Times stirred the drink here, writing that Dempster "is coveted by several would-be contenders, including the Los Angeles Dodgers and New York Yankees." Coveted? Really?
Two weeks ago we heard quite the opposite. Jon Heyman wrote that the Yankees have concerns about Dempster pitching in the American League. Since his debut as a 21-year-old for the Marlins in 1998, Dempster has pitched exclusively in the NL. The Yankees seemingly haven't had success with pitchers who switch leagues, though Hiroki Kuroda has performed admirably this season. It does seem, as Heyman writes, that they'd prefer to trade for Dempster's teammate Matt Garza, though Garza will be a bit more expensive since he's still under team control for 2013.
Dempster has gotten off to a great start this season, allowing just 19 earned runs through 74 innings while striking out 63 to just 20 walks. His ground ball rate is down a bit, which is somewhat concerning. During his peak years of 2008 through 2010, when he produced a 3.49 ERA in 622 innings, his ground ball rate was around 47 percent, while it's under 43 percent this year. And, again, the transition from the NL Central to the AL East is a significant one. That shouldn't stop the Yankees from acquiring Dempster, but it should certainly limit the price they're willing to pay.
The Yankees might have five starters going well right now, but as we've seen in years past, that can change at any time. In 2010 they had five starters pitching well when the Cliff Lee trade fell through, and it seemed like no big deal. But then Hughes's performance worsened considerably. Javy Vazquez fell off a cliff. Andy Pettitte got hurt. And A.J. Burnett again turned in a poor summer performance. That is to say, a currently full pitching staff shouldn't turn off the Yankees. With the rate at which situations change, they'd be fools to write off such a trade solely because they seem set in the moment.
This is no ringing endorsement of Dempster. Where he is, he's fine. Great, you can even say this season. But move him out of his current environment and stick him in the AL East and it's a different story. I think he can pitch well, but not nearly to the level he's currently achieving. We're talking more back-end starter. There could come a time between now and July when the Yankees might need such an arm. Getting Dempster for the right price will be tricky, but if they can figure out something with the Cubs then they should go ahead. There will inevitably be a need on the pitching staff later this season.