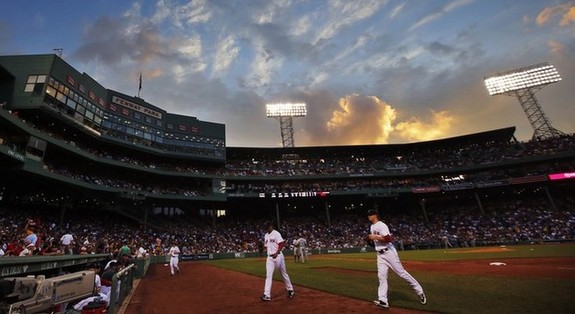 The season is halfway over but the Yankees have Red Sox have only played each other twice so far. New York won both games — including that epic 15-9 comeback win — back in April before rain suspended the final game of that would-be three-game series. That rain out will be made up as part of a day-night doubleheader this weekend.
What Have They Done Lately?
Boston was just swept by the Athletics, part of a 2-5 road trip through Seattle and Oakland. Before that they'd won nine of 11 against mostly interleague competition. The Sox are 42-40 with a +50 run differential, good for fourth place in the AL East and the fourth best run differential in the league. I don't get it either.
Offense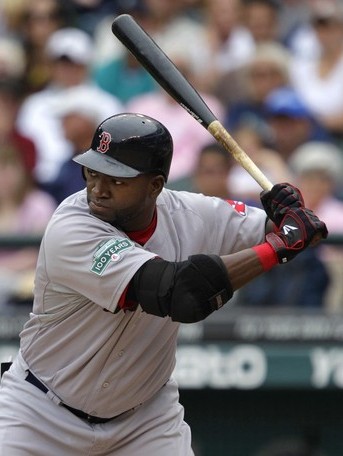 With a team 103 wRC+ and a 5.01 runs-per-game average, the Sox have one of the best offenses in baseball. They're led by the still dynamic David Ortiz (157 wRC+), a legitimate Yankees killer and one of the most dangerous hitters in baseball. He's going to go deep at some point this weekend, just accept it and move on. The Yankees will catch a bit of a break because Dustin Pedroia (94 wRC+) will be placed on the DL with a thumb issue today, and we know how pesky he can be. Hotshot rookie Will Middlebrooks (130 wRC+) is questionable for the weekend as well with a hamstring issue. Good timing, eh?
As for the guys that are healthy, the Red Sox will rely on the disappointing Adrian Gonzalez (92 wRC+), the powerful Jarrod Saltalamacchia (114 wRC+), the scorching hot Daniel Nava (134 wRC+), the dreadful Mike Aviles (80 wRC+), and the bat-flippy Cody Ross (135 wRC+). Ryan Kalish (34 wRC+ in limited time), Brent Lillibridge (7 wRC+), Nick Punto (57 wRC+), Mauro Gomez (19 wRC+ in limited time), and Kelly Shoppach (135 wRC+) round out the rest of the actives. No word on what the roster move will be for Pedroia, but it's unlikely to be any kind of impact bat. With Kevin Youkilis in Chicago and both Pedroia and Middlebrooks on the bench, Bobby Valentine's lineup is a lot thinner than we're used to seeing.
Pitching Matchups
Friday: RHP Hiroki Kuroda vs. RHP Josh Beckett
A noted Yankees killer (depending on your endpoints), Beckett is making his second start back from the DL after a bout with shoulder inflammation. He held the Mariners to two runs in six innings last week and overall has pitched to a 4.06 ERA (3.74 FIP) in 13 starts this season. Beckett's strikeouts are way down (6.40 K/9 and 17.4 K%) and he's still giving up just about a homer-per-nine (0.96 to be exact), though his walk (2.13 BB/9 and 5.8 BB%) and ground ball (42.4%) rates are unchanged from the last few years. His fastball velocity is down about a mile and a half per hour this season, meaning his two-seamer, four-seamer, and cutter now sit low-90s instead of mid-90s. Beckett still has the hammer upper-70s curve and upper-80s changeup. We've seen enough of him, the Yankees have seen enough of him … no surprises here.

Saturday Game One: RHP Freddy Garcia vs. LHP Franklin Morales
Boston put Morales in the rotation when the Daniel Bard as a starter experiment failed spectacularly and he's rewarded them by allowing just two runs across 13 innings in his first two starts. His overall season performance — 2.59 ERA (2.66 FIP), 9.50 K/9 (25.4 K%), 2.38 BB/9 (6.4 BB%), and 52.5% grounders in 41.2 IP — has been stellar, the kinda stuff the Rockies were expecting when Baseball America ranked him as the eighth best prospect in the game prior to the 2008 season. Morales uses a pair of mid-90s fastballs from the left side (two and four-seamer) to setup his mid-70s curveball and low-80s changeup. The Yankees have seen him for a whole nine plate appearances — four in April — so they're pretty much going in blind.
Saturday Game Two: RHP Phil Hughes vs. LHP Felix Doubront
The starting pitcher for that 15-9 comeback, Doubront carried a 3.86 ERA into June but has since allowed 20 runs in his last 33.1 innings. His season 4.42 ERA is a touch higher than the peripherals (4.19 FIP) but nothing crazy. He can strike guys out (9.13 K/9 and 23.2 K%) but isn't anything special in the walk (3.41 BB/9 and 8.7 BB%) or ground ball (40.3%) departments. Doubront's bread-and-butter is a big breaking mid-70s breaking ball, which he'll setup with low-90s two and four-seamers. He'll also mix in a mid-80s changeup. It's worth noting that he ranks ninth in the league in stolen bases allowed, so run run run.
Sunday: RHP Ivan Nova vs. LHP Jon Lester
It's been subpar year for Boston's ace left-hander, who's pitched to a 4.33 ERA (3.63 FIP) with a great walk rate (2.33 BB/9 and 6.2 BB%) but a mediocre strikeout rate (7.33 K/9 and 19.3 K%). He's been fine as far as the ground balls go (48.2%). Lester uses three low-90s fastballs — sinker, cutter, four-seamer — to go with his mid-70s curve and mid-80s changeup. He gets himself into trouble when he falls in love with the cutter, using it exclusively for periods of time. Lester is still only 28, but he's gone from being a truly elite starter to just a pretty good one over the last two years. Maybe he's just burnt out by all the high-intensity innings at such a young age.
Bullpen Status
Like the Yankees, the Red Sox had yesterday off so everyone out in the bullpen is rested. Embedded Yankee Al Aceves (3.24 FIP) has taken over as closer with some rather spectacular meltdowns, but he's gotten the job done more often than not. Scott Atchison (2.56 FIP) has very quietly been one of the best relievers in baseball this season, working multiple high-leverage innings at a time. Andrew Miller (2.61 FIP) is Bobby V.'s only left-hander. Vicente Padilla (2.88 FIP) has been the primary setup guy while Matt Albers (4.83 FIP) and Mark Melancon (8.56 FIP) handle middle relief work. Melancon has been much better since coming back from Triple-A two or three weeks ago. Right-hander Justin Germano was just recalled for long relief and has yet to appear in a game.
Expect to see quite a bit of Boone Logan and Clay Rapada this weekend, particularly against Ortiz and Gonzalez. My biggest concern is matching up with Cody Eppley, who struggles against southpaws due to his low arm slot. Same with Chad Qualls. Check out our Bullpen Workload page for recent usage details and Over The Monster for the very best Red Sox analysis on the netweb.