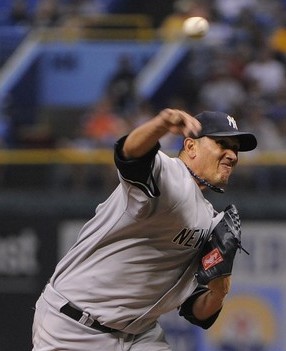 Lost in the frustration of last night's loss was Freddy Garcia's strong performance in his return to the rotation. The injuries to CC Sabathia and Andy Pettitte forced the Yankees to remove Freddy from the long man role and essentially make him the fourth starter, and he responded by allowing just two runs in 5.1 innings while being held to a 75-pitch limit. His last pitch was a game-tying solo homer by Carlos Pena, so his night ended on a sour note, but otherwise he did exactly what the team needed him to do.
"I need to step up," said Garcia after last night's game. "We've got a couple of guys hurt. I want to do good. That's all, man. I want to pitch good. I've got the chance again, and I want to take my opportunity to prove I can be in the starting rotation."
Of course, Freddy was banished to the bullpen because he was a disaster in April. He pitched to a 12.51 ERA (5.39 FIP) in his four starts, failing to complete even two full innings twice. Joe Girardi used him very sparingly during May and June — ten appearances (17.1 IP) in the team's 54 games — and very rarely in a close game. Seven of those ten appearances came with the score separated by three or more runs. Freddy pitched well though (1.57 ERA and 2.94 FIP) and despite all that talk about his fastball velocity coming back, you'll be hard-pressed to find it in the PitchFX data. I think that might have to do with the system's issues classifying his repertoire more than anything.
For a while I was on the "just release Garcia" bandwagon, which was really born out of frustration as the team struggled in mid-May. When the Yankees are losing we want to see changes made, it's human nature, and Freddy was an easy move to make. Obviously the club is smarter than me (and you) and they decided to keep the pitching depth, which is coming in mighty handy right now. The fact that Freddy isn't some kid they have to baby is a plus as well; the Yankees can be aggressive with him and run him out there for 74 pitches after he hadn't thrown more than 33 in a month like they did last night.
The Garcia we saw last night was pretty much the guy we saw all of last season, a super-finesse guy who generated some weak contact, some hard-hit outs, and kept the Yankees in the game. With Sabathia and Pettitte out for the time being, that's what the team is going to need Freddy to do in his spot starts. Given his track record and the general unpredictability of young pitchers like David Phelps and Adam Warren, it wouldn't be a surprise if the sweaty one assumed Pettitte's rotation spot in the long-term, or at least until the Yankees go out and make a trade.