My goodness are the Blue Jays annoying and pesky and all that. This game was a lot closer than the final score indicates, but a win is a win is a win.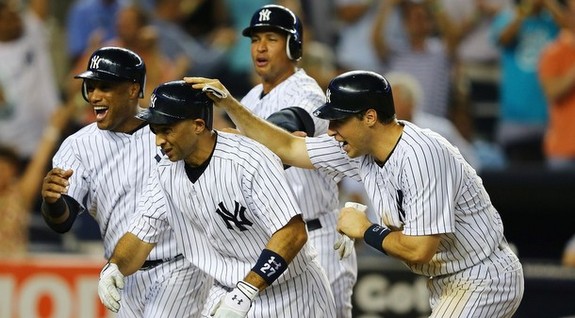 Down Goes Frasor
He may be 40 years old, but you're going to have to locate well if you want to sneak a fastball by Raul Ibanez when he's ahead in the count. Jason Frasor tried to give Raul the gas face in a 3-1 count with the bases loaded and two outs in a tie game in the bottom of the eighth, but Ibanez jumped all over it for a grand slam that landed safely in the second deck out in right. Whenever he connects, they really do go a long way.
The inning was all setup by Alex Rodriguez, who singled with one out to get the rally started. Kelly Johnson was unable to unable to reel in a Robinson Cano ground ball to put men on the corners, and Mark Teixeira took a breaking ball to the foot to load the bases. That pitch bounced to the backstop, so A-Rod would have trotted home easily had it not hit Tex in the foot. Usually you need a guy to sell getting hit by a pitch, Teixeira had to sell not getting hit there. Weird.
Anyway, the bases were loaded with one out before Nick Swisher struck out looking — his second backwards K with the bases juiced on the night — for the second out. It was either a great pitch or a hanger depending on who you ask, but it was a pretty great at-bat with a terrible result. Frasor got ahead 0-2 but Swisher battled back to run the count full and fouled off a few extra offerings before taking the strike three. Oh well. Ibanez bailed him out with his latest big hit in a season that has been full of 'em.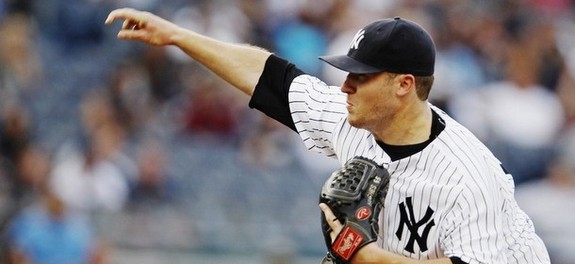 A Phine Job By Phil
The first start out of the All-Star break for Phil Hughes was a pretty good one, with two runs across seven innings on just four hits and three walks. It was only the second time this year he walked more than two batters in a start, joining the complete game in Detroit when he also walked three. One of the two runs came on a cheap Adam Lind homer to right, the other on a booming Edwin Encarnacion double to left. That dude was on everything all night, everything he hit was hard.
All four hits Phil allowed went for extra bases — two doubles by Encarnacion, the homer by Lind, a double by Rajai Davis — so the Blue Jays weren't missing when he made a mistake. They came into the game with the third most runs in baseball, so Hughes did a pretty good job of keeping guys off base and limiting the damage when they did get guys on. I thought it was questionable to send him back out for the seventh, but Joe Girardi managed to squeeze that extra inning out of his starter to spare a bullpen with a shaky middle relief situation. Good job by Phil to reward his manager's faith and to more than keep his team in the game.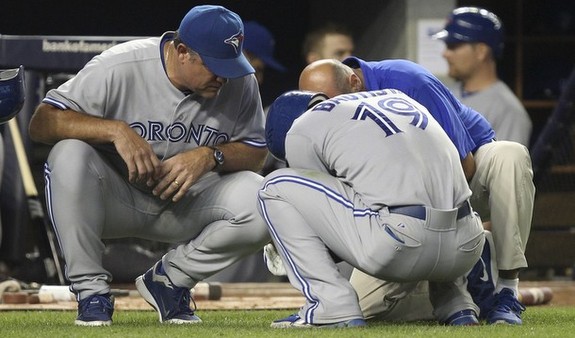 Leftovers
The Yankees have now scored 3+ runs in 40 straight games, the second longest single-season streak during the expansion era. They scored their first run on a Russell Martin solo homer that will rank among the cheapest Yankee Stadium homers you'll ever see, and their second when Jose Bautista missed a Cano line drive on a dive to score A-Rod. Bautista left the game after injuring his wrist on a swing and it did not look good. Although I'll never wish injury on a player, I hope Toronto realizes how important he is to their franchise and plays it safe by resting him the next two days. It's only smart.
David Robertson threw a shutout frame while the score was tied in the eighth before Cody Eppley and Rafael Soriano made things unnecessarily interesting in the ninth. It wasn't really their fault; Eppley did walk a guy but the Jays pushed a run across on an infield single and dinky little bloop. Annoying, like I said. Soriano froze Colby Rasmus on a called strike three to end the game, his 23rd save in 24 tries.
A-Rod singled and doubled, only the second time all season he's had an extra-base hit in three consecutive games. Cano also singled and doubled to extend his hit streak to 19 games. Curtis Granderson and Swisher singled while Martin and Ibanez added their dingers. It was rather facepalmy that Henderson Alvarez set a season-high in strikeouts (six) after coming into the game with 3.0 K/9. That dude was asking for trouble.
Dear Yankee Stadium faithful: if you are chanting U! S! A! in support of the Yankees during a game against the Blue Jays you are a moron. That is all.
Correction!
I goofed in Sunday night's recap. The longest hit streak of Cano's career prior to this one was 18, not 21. His longest on-base streak was 21 games back in August 2010, but he broke that record in this game as well. So right now he's on a 19-game hit streak and a 22-game on-base streak. I don't think Robbie's had a cheap hit in any of 'em.
Box Score, WPA Graphs & Standings
MLB.com has the box score and video highlights, FanGraphs the advanced stats, and ESPN the updated standings. The Orioles are getting got shellacked by the Twins and the Rays lost to the Indians, so the Yankees will have a full nine-game lead in the division in a matter of minutes. The Rays and Red Sox are both ten back, the Jays eleven back.

Source: FanGraphs
Up Next
CC Sabathia will come off the DL to rejoin the rotation in the middle game of this three-game set on Tuesday night. Fellow southpaw Brett Cecil gets the ball for the Blue Jays. Make sure you check out RAB Tickets for the latest deals if you want to catch the game at the Stadium.