During the next few days we'll take some time to review the first half of the season and look at which Yankees are meeting expectations, exceeding expectations, and falling short of expectations. What else is the All-Star break good for?
Although the Yankees have the best record in baseball, they have yet to really fire on all cylinders. They have a number of players who have not produced as expected so far, including some high-profile guys in prominent roles.
Alex Rodriguez
Father Time catches up to everyone, even players who were once historically great. A-Rod was able to avoid the DL in the first half thanks to Joe Girardi's plan of regular rest, but the production has not improved as hoped. Alex is hitting just .269/.357/.436 with 13 homers overall, on pace for what will likely become the worst season of career after setting a new low-water mark a year ago. His strikeout rate (22.0%) is his highest since 1996, his walk rate (10.3%) his second lowest since 2001, and his ISO (.167) his lowest ever.
Obviously there's a lot going on here. A-Rod will turn 37 later this month, so age-related decline as already set in. Numerous lower body injuries in recent years — torn hip labrum and knee surgery chief among them — have impacted his ability to incorporate his lower half into his swing, resulting in the power decline. He's more of an arms hitter than ever before. His struggles with runners in scoring position (.215/.354/.367) only exacerbate the problem. There's no BABIP correction coming (he's at .318 right now) and the power is unlikely to re-emerge. A-Rod is not a superstar anymore, get used to it.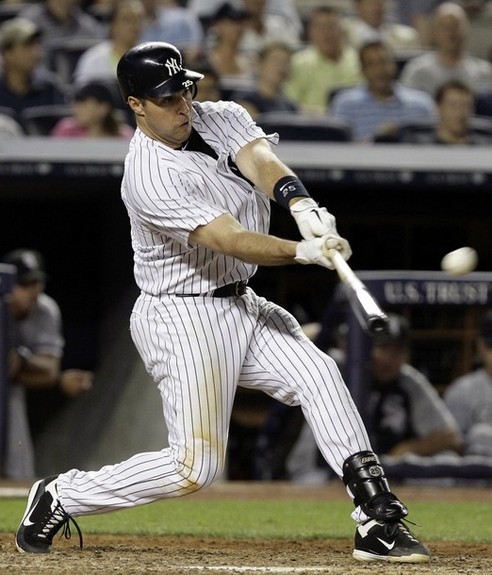 Mark Teixeira
Teixeira's offseason and Spring Training work drew lots of attention as he focused on hitting the ball the other way to beat the shift and improve his declining batting average. Everything looked fine during the first two weeks of the season, as he hit a solid .288/.354/.508 through the team's first 15 games. Teixeira fell off in a big way after that, hitting just .135/.185/.220 in his next 16 games. He got hot a few games after that, but then Girardi decided to sit him for three games due to an ongoing cough that has since been diagnosed as nerve damage to his vocal cords.
The rest helped the cough and at some point during those three days, Teixeira decided to abandon everything he'd been working on and get back to being a pull-happy slugger. What he was doing before just wasn't working. The early returns were positive — four homers in his next seven games — but Teixeira's production soon slowed down once again. Through the team's first 85 games, their first baseman is hitting .250/.334/.473 after putting up a .248/.341/.494 batting line last year, the second worst of his career outside of his rookie season.
Teixeira's production has been better than league average but again, below his normal standards even if you were expecting him to simply repeat last year. His 15 homers are well behind his usual pace — he had 25 at the break last summer — and his walk rate has dipped from 13.1% in 2010 to 11.1% in 2011 to 10.7% in 2010. A ten-point boost in BABIP from last year hasn't helped his average much, unsurprisingly. The big problem right now is that not only has his average and OBP suffered, but he's not hitting the ball out of the park as often either. His defense is still all-world, but Teixeira's production at the plate has declined for the fourth straight season.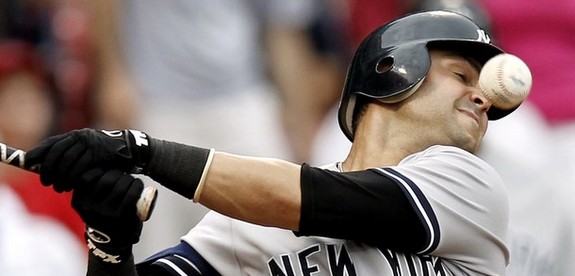 Nick Swisher & Russell Martin
The Yankees can survive a few sluggish bats because they have a deep lineup, but even the production from lower down in the order has suffered. Swisher is in the middle of a contract year but is hitting just .262/.336/.477 so far. The power production is obviously fine, but his 10.1% walk rate is the second lowest of his career and well below his 13.3% career average. Swisher's strikeout rate (22.0%) is up slightly compared to recent years, so it shouldn't be surprising that he's swinging at 23.6% of the pitches he sees outside of the strike zone. Last year it was just 17.5%. He's doing damage when he makes contact, but a big part of Swisher's value is his ability to be get on-base in ways other than a hit. He hasn't done much of that in 2012.
Martin, on the other hand, hasn't done much offensively at all. His .179/.300/.348 batting line is below average even for a catcher, and although he's shown signs of breaking out on occasion, it never lasted. Martin will have a good game or two every once in a while then slide back into a prolonged slump. He's striking out way more than usual (20.2% strikeouts this year, 14.6% career) despite swinging at fewer pitches outside of the strike zone (15.4%) than ever before. His .193 (!) BABIP should improve in the second half just by pure luck, but the quality of Martin's contact has not been good all year. You really can't understate how awful he was in the first half.
Freddy Garcia
Although he just turned in a damn fine start against the Red Sox in Fenway Park, Garcia has been a disappointment overall. His first four starts in April were a total disaster, I'm talking a 20 runs in 13.2 innings kind of disaster. The Yankees shipped him off to the bullpen where he worked sparingly in low-leverage situations, then reinserted him into back into the rotation once CC Sabathia and Andy Pettitte hit the disabled list. Freddy has pitched well in his two starts back, but that doesn't wash away the stench of April. Overall, Garcia has pitched to a 5.23 ERA (4.16 FIP) in 43 innings. Here's to a much more successful second half.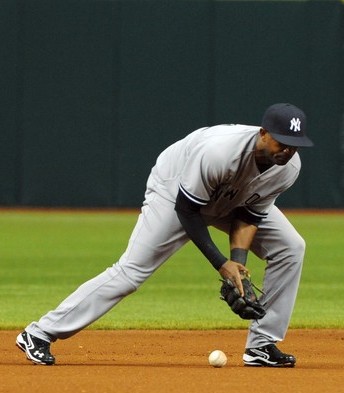 Eduardo Nunez
When the season opened, the Yankees planned to give A-Rod and Derek Jeter time at DH against left-handed pitchers while Nunez filled in on the infield. They did just that for a few weeks, but Nunez's defense — four errors in 20 games plus several other botched plays — became such an issue that he had to be demoted to Triple-A in early-May. He was hitting just fine, especially for a utility infielder (.294/.356/.373), but the glovework just could not be tolerated anymore. Nunez committed two errors in four Triple-A games before being placed on the DL with a thumb injury. He had a chance to really step up and force his way into the team's long-term plans this season, but now he doesn't even have much trade value.
Cory Wade
For the first two months of the season, Wade was absolutely lights out while David Robertson and Mariano Rivera were on the DL. He also threw a lot of innings and made a lot of appearances, and that may have contributed to one of the worst pitched months in recent Yankees history. Wade has allowed 25 hits and 18 runs in 10.1 innings since the calendar flipped to June, earning him a demotion to Triple-A. His ERA climbed from 3.34 to 6.48 in his last three appearances alone (13 runs in 3.2 IP). It's all about command with him; when he missed his spots with his soft stuff, it got hammered. Wade was tremendously useful last year and at the start of this year, but now the Yankees have to be wondering if he's even salvageable.