During the next few days we'll take some time to review the first half of the season and look at which Yankees are meeting expectations, exceeding expectations, and falling short of expectations. What else is the All-Star break good for?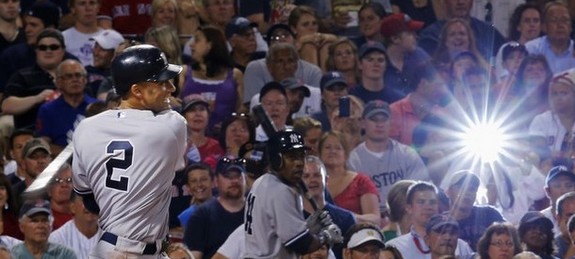 The Yankees head into the All-Star break with the best record in baseball at 52-33 despite having only played 14 games against teams with a losing record. I guess that's what happens when all but three AL teams have a .500+ record, including every club in the AL East. Despite that win-loss record, the Yankees don't seem to have clicked on all cylinders yet. The bullpen carried them in April, the rotation carried them in May and June, and the offense has shown flashes of being dominant but hasn't really 100% clicked yet. That means there is still room for improvement. Here are the players who have been performing in line with preseason expectations…
Derek Jeter
At this time last year, the Cap'n was really just starting to get going. He hit a weak .270/.340/.370 in 2010 and was sitting on a .260/.324/.324 batting line when a calf injury forced him to the disabled list last June. The injury proved to be a blessing in disguise for Jeter, who worked with hitting coordinator Gary Denbo at staying back on the ball. He hit .331/.384/.447 after returning on Independence Day and he's carried that success over into 2012.
Now, obviously the 38-year-old shortstop wasn't going to hit that well all season, but Jeter has posted a rock solid .308/.354/.411 batting line in the first half this year. He had a huge April, a so-so May, and a poor June before picking things back up in early-July. Derek has already hit more homers this season (seven) than he did last season (six), and he's on a similar stolen base pace (seven in nine chances so far). As you'd expect, most of his damage is coming against lefties (.381/.405/.552) but at least he's putting up more of a fight against righties (.278/.333/.353) than he did in 2010 and the first half of 2011.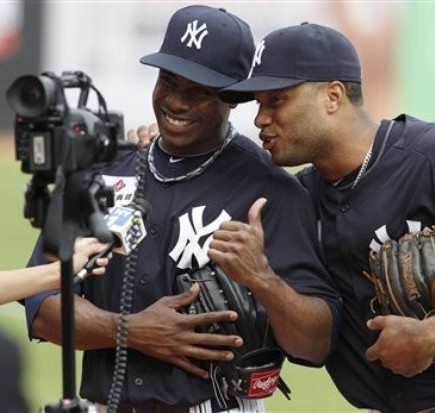 Curtis Granderson & Robinson Cano
The Yankees two best offensive players last year have continued to be just that in 2012. Cano is right in the mix for the AL MVP award at this point thanks to his .313/.378/.578 line and 20 homers, exactly what we've come to expect from Robbie over the last few years. He's unquestionably the best player on the best team in baseball and is in the middle of a career year, both at the plate and in the field. Despite a slow start in April, Cano continues to be brilliant.
Granderson has shown that last season's power spike was no fluke, carrying a team leading 23 dingers into the break. He ranks fourth in the AL in long balls and is just a touch behind last season's pace, when he went deep 25 times in the team's first 85 games. Granderson's .248/.352/.502 batting line is second only to Cano in its gaudiness, and he's currently walking in a career best 13.1% of his plate appearances, the eighth best walk rate in the league. His strikeout rate (25.9%, eighth in the AL) is also a career high, but you take the bad with the good. When Curtis stops hitting the ball out of the park and getting on-base, the whiffs will become more of an issue.
CC Sabathia, Hiroki Kuroda & Ivan Nova
Given the uncertainty surrounding Phil Hughes, these three came into the season as the guys Joe Girardi would rely on for quality outings once every five days. Sabathia has battled his fastball command all season long but he still carries a 3.45 ERA and 3.21 FIP into the All-Star break. His strikeout (8.83 K/9 and 23.1 K%), walk (2.44 BB/9 and 6.4 BB%), and ground ball (49.8%) rates are right in line with last season, his best in New York. A minor groin strain landed Sabathia on the DL for the first time in pinstripes but he's expected back right after the break.
Kuroda got tagged with the inconsistent label early on but has been a rock since late-April, allowing no more than two earned runs in ten of his last 14 starts. His 3.50 ERA is the 13th best in the junior circuit and the peripherals are solid as well: 4.07 FIP, 6.92 K/9 (18.4 K%), 2.67 BB/9 (7.1 BB%), and 47.4% grounders. Kuroda's given the team exactly the kind of stability they expected when they signed him to that one-year, $10M pact last offseason.
Following last night's grind-it-out win, Nova has already struck out more batters this season (100) than he did a year ago (98) in 55.1 fewer innings (232 fewer batters faced). An early-season bout of homeritis — 12 homers in his first nine starts but just five in his last eight — has his ERA at 3.92 (4.32 FIP), but that has been coming down steadily over the last two months. Nova is missing bats (8.16 K/9 and ), limiting walks (2.69 BB/9 ), getting ground balls (48.3%), and soaking up innings (110.1 IP, 11th in the AL). He's taken a nice big step forward in his second full season.

Andruw Jones, Jayson Nix & Chris Stewart
The Yankees aren't usually known for their bench players, but this season they've gotten some fantastic work out of their reserves. No one is having a truly awful year off the bench, especially after Andruw Jones clubbed four homers in the two-day span this weekend. He's hitting .244/.326/.535 with 11 homers overall, including .253/.305/.529 with seven homers against lefties.
Nix took over once Eduardo Nunez's defense landed him back in Triple-A, and although his .221/.284/.412 line is nothing to write home about, he's done most of his damage against lefties .256/.293/.436 in sort of a platoon/rest the regulars role. I've also been pleasantly surprised by his defense, particularly at short. He's not great, but he's not an embarrassment. Offensive expectations for Stewart were so low that his empty .256/.276/.293 batting line feels like a win. His defense hasn't been as great as advertised but overall, he's a solid backup that has probably gotten a little too much playing time in the first half (has started 30% of the team's games).
David Robertson, Boone Logan & Clay Rapada
The bullpen has continued to be a strength for the Yankees, just as it has been for the last three or four years now. They've pitched to a 3.20 ERA (3.37 FIP) as a unit, and it's even more impressive when you consider that Mariano Rivera threw only 8.1 innings before blowing out his knee shagging fly balls in May. Robertson missed a month with an oblique strain but his strikeout (14.59 K/9 and 38.1 K%) and walk (4.38 BB/9 and 11.4 BB%) rates have actually been better than his breakout campaign a year ago. He's run into more trouble than usual lately, but he wasn't going to sustain what he did last year anyway. Robertson remains highly effective and one of the game's most dominant late-inning relievers.
Logan stepped up in a huge way when Robertson hit the DL and the workload has been catching up to him of late; he's pitched in 43 of the team's 85 games, the most appearances in baseball. His 3.77 ERA (3.55 FIP) is backed up by a sky-high strikeout rate (11.90 K/9 and 30.6 K%) and he's held left-handed hitters to a .235/.293/.397 batting line. His lefty specialist counterpart has been effective since being plucked off the scrap heap, as Rapada has held same-side hitters to a .150/.246/.217 line that is essentially identical to his .152/.250/.219 career performance. If anything, you can probably make a strong argument that he's exceeded expectations, same with Nova, Cano, and Kuroda (considering the league switch).