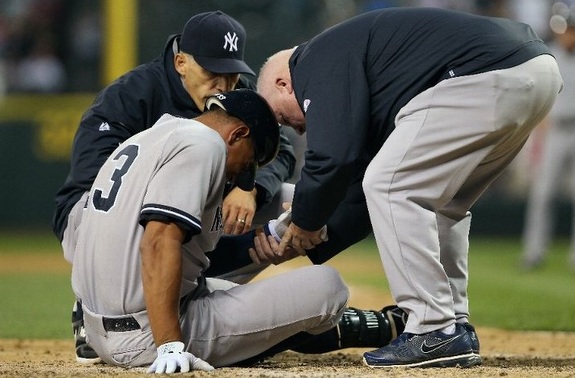 At this point of the season, with a seven-game lead and 65 left to play, the Yankees are just looking to maintain their cushion and stay healthy. The latter is sometimes out of their hands though, and last night they lost Alex Rodriguez for an unknown length of time when a pitch broke the fifth metacarpal in his left hand. It's a non-displaced fracture and although that's better than a displaced fracture, but it will still require a DL stint. Most estimates put his timetable in the 6-8 week range but we won't know fore sure until he gets back to New York and sees the doctors on Thursday.
One way or the other, the Yankees just lost their starting third baseman and an important middle of the order bat for a not insignificant period of time. A-Rod is no longer the historically great hitter he once was, but his .356 wOBA and 121 wRC+ will be very tough to replace. The Yankees also have zero right-handed power in their lineup now — it's basically Andruw Jones on the days he starts and that's it. Switch-hitters Mark Teixeira and Nick Swisher do soften the blow, thankfully. The team has not yet announced the corresponding roster move, but they have some options to plug the third base hole.
Eric Chavez
The Yankees have gotten some fantastic production out of Chavez this year (108 wRC+) and he remains a standout defender at the hot corner, but they would risk injury by running him out there on a full-time basis. It's not a matter of if he would get hurt, just a question of when. Joe Girardi has done a fine of job of limiting his playing time in a way that both helped the team and kept Chavez off the DL. Doing that with Alex on the shelf will be much more difficult.
Jayson Nix
Nix has been fine as the utility infielder but he is a right-handed bat who does almost all of his damage against left-handers (99 wRC+). He and Chavez make sense as a platoon tandem in the short-term but the Yankees run the risk of exposing Chavez to injury and exposing Nix to opposing pitchers by using it permanently.
Eduardo Nunez & Ramiro Pena
Nunez is still working his way back from a thumb injury in the minors, so he's probably not an option just yet. The Yankees love him and almost certainly would have used him as A-Rod's replacement had a) he been healthy, and b) his defense not been so bad in April and May that he had to be sent to Triple-A. We're all familiar with Pena, the switch-hitting slap hitter with a .249/.302/.316 batting line in Triple-A this season. He can play all over the infield and is excellent with the glove, but he can't hit. You don't want him out there on a full-time basis at all. Both Nunez and Pena are on the 40-man roster.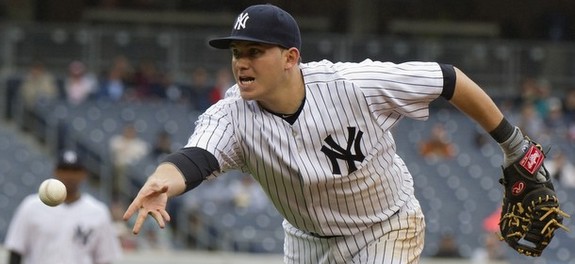 Brandon Laird & Corban Joseph
It's been two years since Laird broke out with an MVP-winning season in Double-A, but Triple-A has been a much more difficult challenge. He's hit .253/.294/.406 in just over 1,000 plate appearances at the level but has been hot of late, hitting .313/.367/.613 in July. Laird is a right-handed hacker with some power and he can actually play the position well, so he seems like a potential call-up candidate. CoJo has been mashing at Triple-A since making his debut a few weeks ago — .281/.379/.503 with nearly as many walks (31) as strikeouts (34) in 220 plate appearances — and has 43 games of third base experience to his credit (for his career, not this year), so he has to be considered as well. As a left-handed bat, he would get most of the playing time in a platoon. His ability to play second base would be nice as well. These two are both on the 40-man roster.
Outside Help
Go figure, Ryan Roberts was both designated for assignment by the Diamondbacks and traded to the Rays just a few hours before A-Rod got hurt. He would have been a solid temporary replacement had the timing been right. The Yankees could still explore the third base market with the trade deadline a little less than a week away, but I have to think they'll wait for an official timetable from the doctors before diving into anything. Chase Headley is the big name now that Hanley Ramirez is off the market, but I have a hard time thinking they'll do something of that magnitude. Headley wouldn't just impact 2012, he'd impact 2013 and 2014 as well. A free agent-to-be like Marco Scutaro, Stephen Drew, Ty Wigginton, or Placido Polanco may make more sense.
* * *
Regardless of who the Yankees call-up to fill A-Rod's spot — I expect it to be Nunez, but that's nothing more than a guess — we're probably going to see quite a bit of Chavez (and a little bit of Nix) at third for the next week or so. Chavez is an obvious fill-in but Girardi and the Yankees have to be very careful with him, they must ensure that he's well-rested unless they want to lose two third baseman to the DL. I don't have much faith in Laird or really any of the minor league guys at the moment, so swinging a trade before the deadline would be preferable. Either way, the Yankees will not be able to replace Alex and everything he provides, even this aging and declining version.