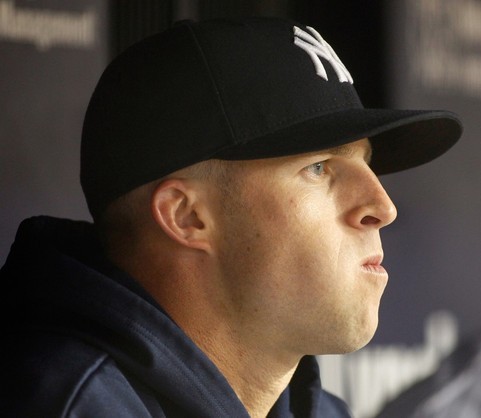 Brett Gardner has played in just nine of 89 games this season, though he took a step closer to returning when he came to the plate four times in a simulated game on Sunday. Unfortunately, Brett woke up yesterday with the same familiar soreness in his right (non-throwing) elbow and has again been shutdown. What was originally diagnosed as a bone bruise and an elbow strain in April has now resulted in three (three!) setbacks. He will head for yet another MRI today.
The Yankees have the best record in baseball and have more than survived the loss of Gardner, but that doesn't mean this setback is insignificant. Raul Ibanez has played far more left field than expected and the Yankees are concerned about the 40-year-old wearing down as the season progresses, particularly in the scorching hot months of July and August. The team also lacks speed on offense and the outfield defense went from a strength to a weakness in one fell swoop. Gardner's glovework is that good.
There's a chance today's MRI will bring good news and Brett will just need another day or two of rest, but at this point the Yankees can't count on that. Whatever this thing is, it's just not healing for some reason. Ibanez has filled in capably and Dewayne Wise has had his moments, but the club is going to have to go out and find an outfield upgrade at some point before the deadline. They haven't gotten a shred of good news about Gardner's elbow since we found out it wasn't broken back in April and there's little reason to expect any in the near future.
The tricky thing is that just any old outfielder won't work. Since Wise will presumably get the axe to clear the eventual roster spot, they need to make sure any player they acquire can play center field. You don't want Nick Swisher or Andruw Jones out there in anything other than an emergency. That's not just a preference when looking for a replacement outfielder, it's a requirement. Center field skills are a must. Speed and ability to work the count would be preferred, but they aren't necessary. Essentially the Yankees should be looking for someone similar to Gardner but better than Wise, who admittedly has played well in his limited action.
So who is that player? Beats me. I haven't really looked but I'm sure we could dig up a name or two after a while. Some of them may even belong to players who are actually available. The Yankees do have Chris Dickerson stashed in Triple-A and I've been beating that drum for a few weeks now, but it's clear they prefer Wise at this point. Either way, the outfield situation became both murkier and clearer with news of Gardner's latest setback. We don't really know which way the team will go now but at least they do know that something has to be done about their outfield situation. Waiting around for Brett was reasonable for the first half of the season, but doing the same down the stretch isn't advisable.