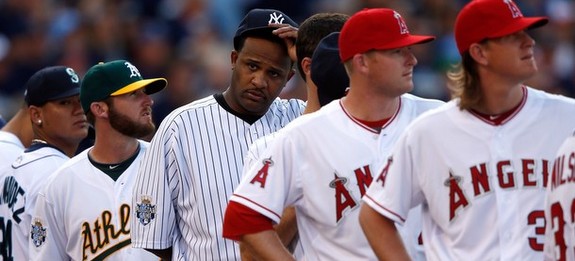 Other than Robinson Cano, left-hander CC Sabathia is pretty much the last guy on the roster you would expect to visit the disabled list. A left groin strain sent him to the sidelines for the first time in six years, but the Yankees will welcome their ace back this evening after a brief little two-week hiatus. He's thrown a handful of bullpen sessions and one simulated game during the time off, and everything has checked out a-okay. No need for a minor league rehab start or anything like that.
"Hopefully I just don't come back and mess it up," joked Sabathia yesterday. "I'm going to throw until they tell me to stop. I feel good. My arm feels good. I haven't felt (the groin strain) since the first week of the injury … I think the rest was good for my arm, even more so than my legs. I don't think I'll have any limitations on pitches. I'll be ready to go."
Joe Girardi indicated that he won't run Sabathia out there for a typical Sabathia-length outing tonight even though he supposedly has no restrictions, so expect something like 100 pitches instead of 120. No reason not to play it safe at this point, especially with a big nine-game lead in the division. Command is the primary concern after a layoff like this and frankly CC has been battling his command all season anyway. Maybe the rest will do him some good in that department, that would be nice.
Sabathia only missed two starts thanks to the All-Star break and the Yankees split the two games — the Adam Warren disaster and a win behind David Phelps in Tampa — which is pretty much all you could realistically ask. In fact the Yankees went 12-6 while Sabathia was out and they stretched the division lead from three games to nine games because the rest of the team really clicked. Almost all of those games were played against division rivals too. Hooray for that.
There's no good time to lose a pitcher like CC, but losing him for two starts sandwiched around the All-Star break with a big division lead is about as good as it gets. Brett Gardner and Andy Pettitte aren't coming back anytime soon, but at least Sabathia will return tonight and that makes this team even more dangerous. Hopefully there's no rust and if there is, he can shake it off in short order. The Yankees have the best record in baseball, and they're about to get one of the best pitchers in the game back into their rotation.