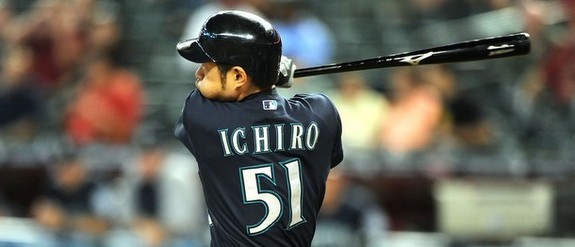 Outfield help was just one item on the trade deadline agenda this year, and oh boy did the Yankees address that need. Jack Curry reports that they have acquired Ichiro from the Mariners for right-handers D.J. Mitchell and Danny Farquhar. Joel Sherman says New York will be on the hook for just $2.25M of the remainder of his $17M salary. He'll be a free agent this winter. Ichiro had ten-and-five no trade protection and had to approve the trade. Both teams have announced the deal and in typical Brian Cashman fashion, it came out of nowhere.
The trade is obviously a reaction to Brett Gardner going down with season-ending elbow surgery. Ichiro provides similar speed and elite defense — plus that cannon arm — but not the same on-base ability. The Yankees are very clearly banking on a change of scenery here, because Suzuki is hitting just .261/.288/.353 this year and .268/.302/.342 over the last two seasons. With any luck, the move to New York and a contending team will rejuvenate him a bit and he hits .450 the rest of the season.
The Yankees value makeup and there is little doubt the 38-year-old Ichiro will fit well in New York. He's arguably the most popular player in the history of Japan and has lived with the media circus since arriving in the States more than a decade ago. It's unclear how exactly the Yankees will use him, but I'm guessing he and Derek Jeter will hit one-two in the lineup in some order. They would be wise to limit his exposure to left-handers as well. Shifting Nick Swisher to left to use Ichiro's arm in right makes sense, but left field has more ground to cover. We'll see.
New York didn't give up much in return. Mitchell was an up-and-down arm likely to settle into a swingman role long-term, though he remains under team control for six more years. The presence of David Phelps, Adam Warren, and Brett Marshall made him expendable. Farquhar was claimed off waivers from the Athletics last month and has been designated for assignment twice this year. He's an inconsequential throw-in. No word on the corresponding 40-man move yet, but I assume either Swisher (groin/hip) will be placed on the DL or Dewayne Wise will be designated for assignment. Ichiro will be in uniform tonight. Welcome to the Bronx.