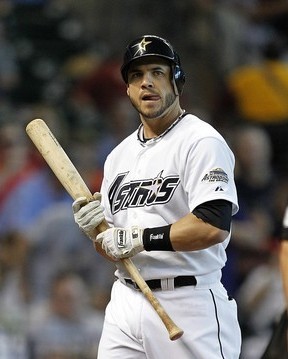 The Yankees have re-acquired Steve Pearce from the Astros for cash, the team announced. Brandon Laird was designated for assignment to clear room on the 40-man roster. No word on how they'll get Pearce onto the 25-man roster just yet, but I wonder if they'll be able to wait until tomorrow so they could just option David Phelps to the minors (following tonight's start) before recalling him when the rosters expand in September. He wouldn't miss a start thanks to Thursday's off-day.
Joel Sherman first reported that they were close to bringing Pearce back to serve as a right-handed bat off the bench during the stretch drive. The outfielder/first baseman spent the first half of the season playing for Triple-A Empire State before exercising an opt-out clause in his contract in early-June. The Yankees traded him to the Orioles for cash rather than let him walk as a free agent, then Houston eventually claimed him off waivers from Baltimore.
Pearce, 29, has hit .254/.333/.396 (93 wRC+) in 158 big league plate appearances this season after destroying the Triple-A level (173 wRC+). He's done a much better job against lefties than righties both this year (120 vs. 80 wRC+) and throughout his career (120 vs. 60 wRC+). Small sample size warnings apply through, the guy only has 679 career plate appearances in the show. Most of his time with the Astros and O's was spent in the two corner outfield spots, though he has a ton of first base experience as well. Pearce has even played a little third base from time to time.
The 24-year-old Laird really didn't have anywhere to go with the Yankees. He's having a decent season repeating Triple-A (98 wRC+), but otherwise is a .256/.295/.409 career hitter in nearly 1,200 plate appearances at the level. Laird had a nice July but the Yankees opted to temporarily recall Ramiro Pena before acquiring Casey McGehee when Alex Rodriguez got hurt. That was a pretty clear indication that Laird had no future in the organization. I suspect he'll either be traded away in a minor deal or claimed off waivers.
The Yankees have posted a solid 106 wRC+ against southpaws this year, down considerably from last season's MLB-best 123 mark. Part of that decline has been Andruw Jones' inability to repeat last year's success against lefties (92 vs. 151 wRC+) and Robinson Cano's suddenly drastic platoon split (71 wRC+ vs. LHP and 189 vs. RHP). The September schedule loaded with intra-division games (as usual), so the Yankees will see an awful lot of David Price, Matt Moore, Jon Lester, Wei-Yin Chen, Joe Saunders, Ricky Romero, and J.A. Happ down the stretch. Having a spare right-handed bat will definitely come in handy.