The fourth series of the Yankees' season was a four-gamer against the Twins in Yankee Stadium, but the two clubs have not faced each other since. They split those four games and since the start of the Ron Gardenhire era in 2002, the Yankees are 65-19 (!) against Minnesota (including playoffs). Four of those 19 losses came against in-his-prime Johan Santana. The Bombers are 10-2 at the new Target Field as well, where these three games will be played.
What Have They Done Lately?
The Twins swept the Tigers in a doubleheader yesterday, which I can't imagine went over well in Detroit. They had lost two straight prior to that, and have dropped nine of their last 17 games. Overall, the Twinkies are 64-89 with a -119 run differential. Only the Indians have a worse record in the league.
Offense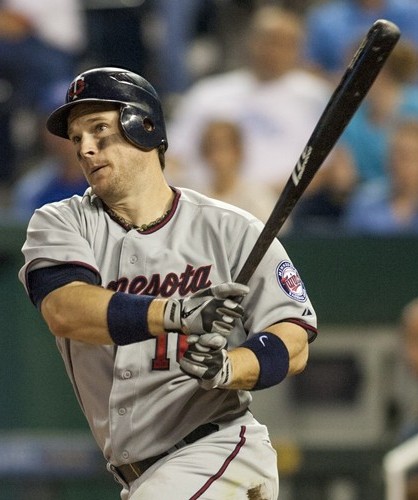 Despite the pitcher friendliness of Target Field, Minnesota averages 4.4 runs per game with a team 99 wRC+. They're a league average offense, and that's pretty good. Their two best hitters this year have been Joe Mauer and Josh Willingham (both 142 wRC+), who go about it very differently. Mauer hits for a sky-high average (.323) and leads the league in OBP (.416) while Willingham has 35 homers and a .265 ISO. They shouldn't be underestimated, they're right behind Miguel Cabrera and Prince Fielder as the best three-four combo in the AL this year.
Setting the table for Mauer and Willingham is leadoff man Denard Span (107 wRC+) while Justin Morneau (114 wRC+) bats fifth behind them. Ryan Doumit (106 wRC+) and the powerful Trevor Plouffe (103 wRC+) add length behind the middle of the order. Ben Revere (95 wRC+) and Jamey Carroll (83 wRC+) play everyday, and the recently recalled Pedro Florimon (71 wRC+) is getting regular reps at shortstop. Darin Mastroianni (103 wRC+ in limited time) plays more than the typical fourth outfielder and brings a lot of speed to the table. The September call-ups include former Yankees farmhand (and former RAB Lifetime Achievement Award honoree) Matt Carson, infielders Eduardo Escobar, Alexi Casilla, and Chris Parmalee, and catchers Drew Butera and Chris Herrmann.
Pitching Matchups
Monday: LHP Andy Pettitte vs. RHP Liam Hendriks
Hendriks, 23, has been up-and-down all season and has pitched to a 5.88 ERA (5.38 FIP) in 72 innings. He's a classic Twins pitcher in that he doesn't walk anyone (2.88 BB/9 and 7.0 BB%) and doesn't strike anyone out (5.38 K/9 and 13.2 K%), but he doesn't get many ground balls either (41.7%). Hendriks is five-pitch pitcher, using two upper-80s/low-90s fastballs (two- and four-seamer) to set up an array of offspeed pitches: low-80s slider, low-80s changeup, low-70s curveball. Lot of separation between those pitches. The Yankees have never faced Hendriks, who has pitched decently against the Royals and Indians the last two times out.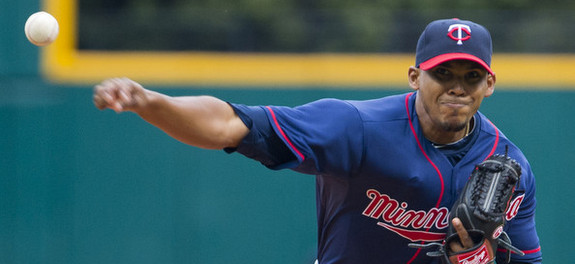 Tuesday: RHP Phil Hughes vs. RHP Esmerling Vazquez
A former reliever with the Diamondbacks turned starter for the Twins, the 28-year-old Vazquez has pitched to a 6.75 ERA (5.36 FIP) in four starts and 20 innings since being recalled. He's walked 15 and struck out just eight in that time with a 31.8% ground ball rate. Vazquez is offspeed heavy, throwing his low-90s four-seamer and sinker just ~45% of the time. A low-80s changeup is his top offspeed pitch, and he'll also mix in a mid-70s curveball. The Yankees scored five runs in zero innings (!) against Vazquez back when he was pitching out of the Arizona bullpen, but otherwise they haven't seen him. They'll also be the first above-average team he faces as a starter after four games against the dregs of the AL Central.
Wednesday: LHP CC Sabathia vs. RHP Sam Deduno
Deduno, 29, has made 14 serviceable starts since being recalled from Triple-A at midseason (4.54 ERA and 5.54 FIP) in 77.1 innings. He gets a ton of ground balls (57.9%) and won't miss a ton of bats (6.40 K/9 and 16.1 K%), typical Twins stuff, but he will walk himself into trouble (5.94 BB/9 and 15.0 BB%). Deduno sits right around 90 with two fastballs (four-seamer and cutter), and will throw his hard, low-80s curveball almost one-third of the time. A low-80s changeup is a distant third offering. He makes it three starters the Yankees have never faced before, for all intents and purposes.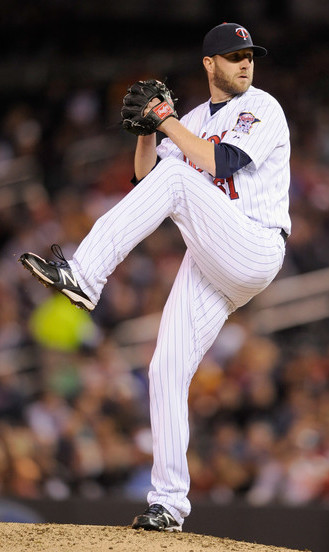 Bullpen Status
Scott Diamond and P.J. Walters soaked up some innings as the two starters yesterday, so Gardenhire's bullpen is in decent shape. Left-hander Glen Perkins (3.00 FIP) has assumed closer duties with Matt Capps on the DL, and he's being setup by splangeup specialist Jared Burton (3.26 FIP). Both of those guys pitched an inning last night but otherwise had two days off beforehand.
Middle relief duties belong primarily to right-handers Casey Fien (2.18 FIP) and Alex Burnett (4.22 FIP), as well as left-handers Brian Duensing (3.86 FIP) and Tyler Robertson (3.86 FIP). Robertson is the specialist while Duensing is the multi-inning guy. Burnett was the only one of those four not to pitch in either of yesterday's games. The lot of September call-ups is righties Luis Perdomo and Anthony Swarzak, that's it. Check out our Bullpen Workload page for details on the Yankees' relievers, then check out Aaron Gleeman and Twinkie Town for the latest and greatest on the Twins.