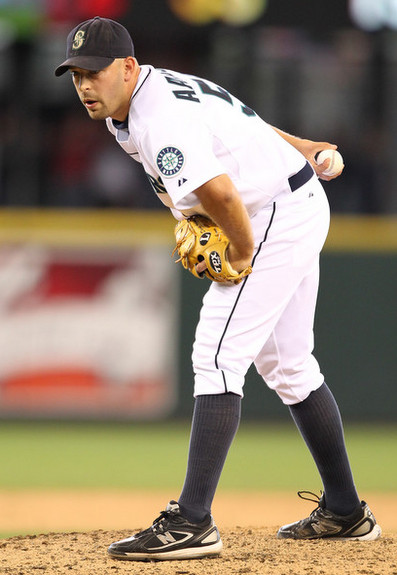 When the Yankees play the second game of their three-game set against the Twins later tonight, they'll do so with a new reliever available in the bullpen. Right-hander David Aardsma is set to join the club today after losing more than two calendar years due to injury. An oblique problem sidelined him in September 2010, then a torn labrum in his hip and Tommy John surgery (and a subsequent setback) cost him all of 2011 and all but nine games of 2012. It's been a long road back, that's for sure.
Since the Yankees are stuck in a tight division race with only those nine games left to play, there's very little chance we'll see the 30-year-old Aardsma in anything more than a low-leverage blowout situation. The eighth inning of last night's game — the inning Cory Wade was unable to escape — seems like the kind of inning the former Mariners' closer would be allowed to navigate. Not a particularly close game and with only a handful of outs remaining, not really enough for the other club to mount a legitimate comeback.
"When (Joe Girardi) calls down, or (Larry Rothschild) calls, or whoever does it, and my name is called, I'll be ready," said Aardsma yesterday. "And then I go out there and go pitch. I haven't faced a big-league hitter in two years, but it's a matter of, I know my stuff's been good. It's been playing really well down in Tampa. I know it's not the same caliber, but I know my stuff is good. Now it's just a matter of going out there, getting comfortable, and facing hitters. I'm not expecting to go out there in the toughest situation ever — I don't think they would do that — but they do want me ready."
Although the AL East crown has yet to be locked up, the Yankees don't really need Aardsma to be much help this week. Earlier in the season after Mariano Rivera got hurt and Wade imploded? Yeah they needed bullpen help then but opted to wait for Joba Chamberlain. He struggled mightily at first before straightening things out and becoming the fourth wheel in the David Robertson-Rafael Soriano-Boone Logan end-game trio. The Yankees found out the hard way that not everyone coming back from reconstructive elbow surgery can be useful right away, but they got a little lucky with how quickly Joba turned things around.
That same problem — the general ineffectiveness following elbow surgery — could present itself with Aardsma, who really didn't pitch all that well during his minor league rehab stint. The circumstances are much different though, as he's just a spare arm for these next nine games and not someone the team is really counting on for an impact. Next year will be  a different story, but we have all offseason to worry about that. I'll be surprised if Aardsma appears in even three of the next nine games, but even if he does, I think we all learned from Joba earlier this season not to count on him for much right away.