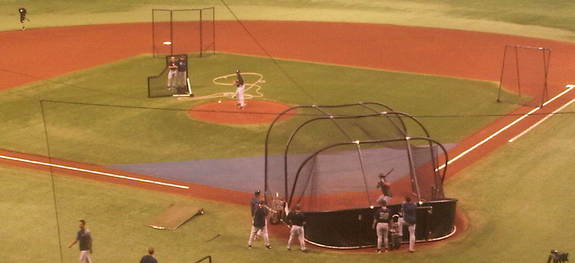 Robinson Cano is in tonight's lineup as the DH after testing his left hip both in the batting cage and during batting practice. The second baseman said his the joint still feels "tight" following last night's awkward step on the game-winning eighth inning hit, and he still feels it when he bends over. Hence the DH thing. There are no tests planned at the moment, but Joe Girardi wouldn't commit to the lineup until Robbie hit on the field and gave the thumbs up.
That lineup, by the way, can be found here. Curtis Granderson is back in not just center field, but also in the second spot of the batting order. The regular 2-3-4 hitters have just been bumped down a slot.
Ivan Nova (shoulder) threw live batting practice to Eduardo Nunez and Chris Dickerson before the game. He faced seven "hitters" and threw north of 20 pitches, including breaking balls and changeups. Nova said he feels fine and right now the plan is to see how he responds tomorrow before determining the next step.
Mark Teixeira (calf) has been jogging but has yet to really push it and run sprints. He's still not ready for that, making a Thursday return to the lineup unlikely at the moment. Unsurprisingly, Teixeira hopes to be back no later than the weekend.
Casey McGehee is back with the club and will be active tonight. The Low-A Charleston season ended yesterday, so he was able to rejoin the team without waiting the full ten days.