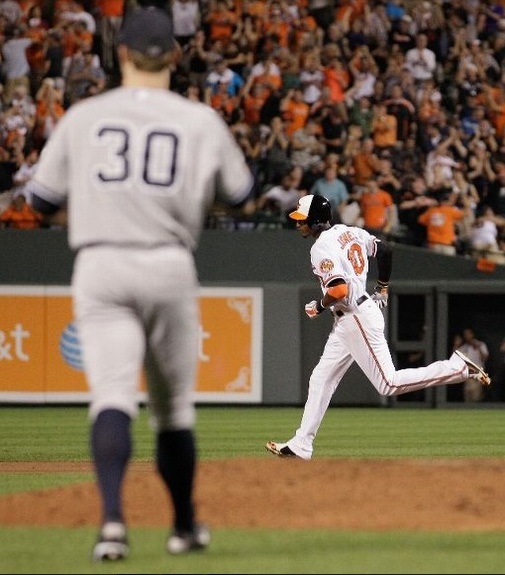 This isn't the easiest of times to be a Yankees fan, as the club seems to find new and more humiliating ways to lose on a daily basis. They've lost six of their last eight games and 13 of their last 18. Since the start of the four-game series in Oakland, when all this losing really started, the Yankees are just 20-25 with a +1 run differential. During that same 45-game span, the Orioles are 29-16 with a +38 run differential. Last night's loss was the latest worst loss of the season.
1. During these seven games against the Orioles and Rays, the Yankees have scored runs in eleven different innings. Five times have they allowed the other team to score in the next half-inning, so in other words they've followed up those eleven innings with just six "shutdown innings." In the last three games, they've scored in six different innings and have had only two shutdown innings. The Yankees just keep letting the other team stay close, it's an epidemic.
2. This David Robertson cutter stuff has to stop. We saw Phil Hughes fall in love with the pitch before getting burned on it in the past, and now it appears Robertson is going through the same thing. The Yankees weren't planning to sign Robertson as their 17th round pick in 2006, but they changed their mind when he went to the Cape Cod League and learned the curveball from his summer pitching coach. That pitch is his moneymaker and he needs to use it. A lot, not once or twice an appearance. His control isn't good enough to get by on the cutter alone, and a poorly located cutter is just a batting practice fastball. Robertson would be well-served to put the cut-fastball in his back pocket and go back to the four-seamer/curveball approach that made him so effective in the past.
3. The Yankees have to skip David Phelps' next start. They're in the middle of a playoff chase and can't afford to send the kid out there again if there is a viable alternative, he just isn't effective enough. These last two starts were classic examples of a rookie pitcher getting overwhelmed and trying to do too much in a big game, I thought. The club can use Monday's off-day to push his next start back to September 15th, next Saturday's game at home against the Rays. Hopefully by then Ivan Nova or even Andy Pettitte will be ready to take over that rotation spot. If they don't skip him, Phelps would make his next start in Fenway Park in the middle of next week. Even with their trade and injury depleted lineup, the Red Sox could make that ugly in a hurry.
4. Considering that pretty much everyone in in the bullpen not named Rafael Soriano has struggled of late, I'm all for giving Cory Wade some high-leverage work. He's appeared in just one game since being recalled from Triple-A over the weekend, retiring all five men he faced last Sunday. When the alternatives are Derek Lowe and Cody Eppley, there's really no reason not to give Wade a shot going forward. We know he can be effective (very effective even) if his command is right, and it appears he's moved beyond his batting practice pitcher phase given his work in Triple-A. I'm actually kinda surprised he hasn't seen more action this week given the bullpen follies.
5. I'm going to finish up with a positive here. I've been encouraged by the three multi-run rallies the Yankees have put together in the last two games. They got the timely hits they needed but more importantly, they've had high-quality at-bats. They laid off pitcher's pitches out of the zone and punished mistakes while also showing a willingness to take the walk if they didn't get anything to hit. I think the return of Alex Rodriguez has helped in a big way, adding some length to the lineup and providing a sort of "here, these are the types of at-bats we need to take in these spots" example. The offensive struggles have been at the forefront of this recent downward spiral, but the Yankees have started to show some signs of life with the bats lately.