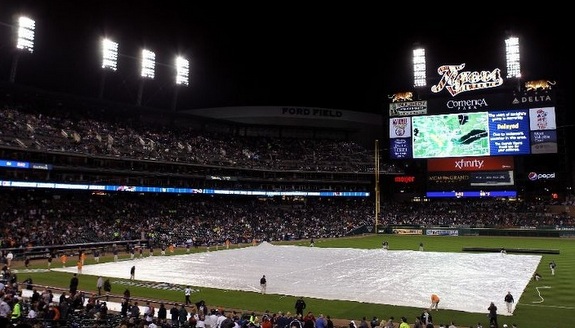 The miracle comeback will have to wait another day. Game Four of the ALCS was postponed due to rain on Wednesday night, as MLB wanted to "preserve the integrity of a nine-inning game." The Yankees and Tigers will instead resume the series at 4pm ET on Thursday, though it should be noted that the forecast calls for a ton of rain that day as well. I guess they'll wait that one out as long as possible.
As far as the Yankees are concerned, the biggest impact of the rain out is that CC Sabathia will not be able to start a potential Game Seven on three days' rest. He would have to go on two days' rest a la Derek Lowe in 2004, which Brian Cashman already confirmed they would not allow Sabathia to do. Despite finishing with the best overall record in the league this year, the Yankees really got the shaft with the schedule. This stinks. Oh well, at least CC will be lined up to start Game One of the World Series.
I assume that if the Yankees actually win Game Four, Game Five would be played Friday night. Andy Pettitte has already been announced as the scheduled starter for that game. Phil Hughes may or may not be able to start a potential Game Seven given his stiff back, which could mean David Phelps gets the ball or Ivan Nova will be added to the roster. That's quite a ways off right now though. The Tigers lead the best-of-seven series three games to none.