Oh what a win. The Yankees made it nice and easy with an enormous second inning while CC Sabathia cruised for eight relatively stress-free innings. They got everything they needed and more on Monday.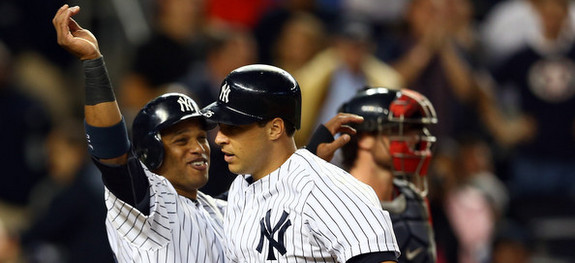 36 Minutes, 12 Seconds
When you score nine runs in one inning, it's bound to take a while. The Yankees walloped Clay Buchholz and (to a lesser extent) embedded Yankee Al Aceves for nine runs in the second inning, taking all the drama out of this game before it really even had a chance to start. Here is the chain of events…
Robinson Cano homered to dead center to leadoff the inning. It hit the windows of the restaurant, which I believe makes him the first Yankee to do that. I know Russell Branyan did it a few years ago while with the Mariners.
Mark Teixeira struck out looking on a 3-2 inside two-seamer. Nasty pitch.
Nick Swisher singled on a hard-hit ground ball back through the middle. Buchholz did a little dance to get out of the way.
Curtis Granderson hit a two-run homer to right. Second deck shot that looked like it might be headed foul for a second or two. It tied Granderson's career-high in homers at 41, set last year.
Russell Martin homered to right-center. A fan in Red Sox gear reached over the wall to catch the ball but missed. It hit the top of the wall and bounced into his hat, which he was using as a glove. The umpires looked at the replay and ruled it a dinger.
Eric Chavez and Derek Jeter followed with walks. Ichiro Suzuki singled through the hole on the right side to load the bases with one out.
Alex Rodriguez hit a sacrifice fly to left, a little line drive/fly ball (fliner?). It was his first RBI in 57 plate appearances, though it would have been just 33 plate appearances if Melky Mesa hadn't forgotten to step on third base.
Cano doubled into the right-center field gap to clear the bases. It was an absolute rocket, giving him six total bases in the inning and his seventh consecutive multi-hit game.
Teixeira homered into the second deck in right. It was his second at-bat off the DL (and of the inning) and had that good sound, if you know what I mean. This hit and Cano's two hits were crushed.
Swisher doubled down the right field line before Granderson grounded out to first to finally end the inning.
All told, the two Red Sox pitchers threw 57 total pitches in the inning. The four homers tied the franchise record for one inning, done twice before and as recently as 2005. The nine runs were a single-inning high for the season, and the previous high (seven) was done three times, including twice in the 15-9 comeback in Fenway Park. After having just one six extra-base hit game in September, the Yankees had six in one inning of their first game of October. It was a massacre.

200 Innings
The Red Sox trotted out a full blown Triple-A caliber lineup on Monday as Dustin Pedroia sat out with an injured thumb and Jacoby Ellsbury sat against the tough lefty. Cody Ross and Jarrod Saltalamacchia were only Boston starters who could pass for big league regulars. It certainly wasn't the type of lineup we're used to seeing that team run out there, that's for sure.
Anyway, the weak lineup meant an easy night for Sabathia. He pitched around a leadoff double in the second, surrendered a solo homer to Daniel Nava in the fourth, and allowed another run in the seventh (walk, wild pitch, ground out, sac fly). It was a very stress-free outing for Sabathia, who struck out seven, walked one, and allowed just four hits in eight innings. I was and wasn't surprised that Joe Girardi left him in that long — surprised because pulling him early could have set him up to pitch in a potential wildcard play-in game on three days' rest if needed, not surprised because this game was crazy important the bullpen hardly qualifies as shutdown.
The eight full innings got Sabathia up to exactly 200 innings on the season, the sixth consecutive season he's reached that plateau. Believe it or not, it's the first time he's thrown fewer than 230 (!) innings since 2006. That's kinda crazy. Two-hundred is a lot of innings but fewer than he's used to throwing, so maybe that's a blessing in disguise heading into the postseason. Either way, that's three very strong starts in a row to finish the year for Sabathia, which is very good news.
Leftovers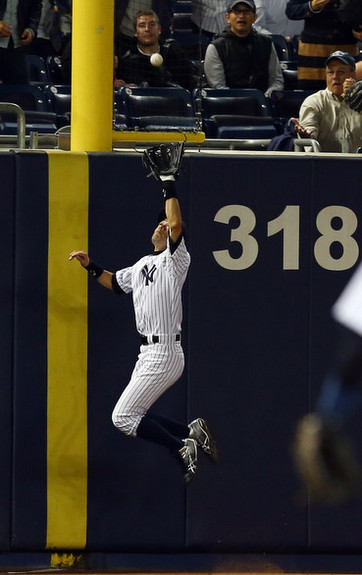 Between the series finale against the Blue Jays and this game, Cano had hits in six consecutive at-bats at one point: double, double, push bunt single, homer, double, double. That's kind of insane. He's absolutely locked in at exactly the right time. His second double in this game set a new career-high with 48 two-baggers. Robbie's working on career bests in doubles and dingers. Love it.
Believe it or not, only three Yankees had multiple hit games despite all of that offense. Cano (three), Swisher (three), and Granderson (two) did the honors. A-Rod was the only starter who failed to reach base while Jeter (one) and Chavez (two) made up for their hitless nights with walks. After scoring 10+ runs just nine times in the first 149 games of the season, they've now done it four times in their last dozen games. That's pretty awesome.
Brett Gardner got an at-bat in the eighth and actually swung the bat, which I guess means the doctors cleared him and his elbow. I can't imagine he'll take playing time away from either Ichiro or Swisher at this point, but it's still good news. Mesa also got an at-bat in the eighth, picking up his first big league hit and RBI with a ground ball single passed the shortstop. Chavez was yelling at him to touch the base from the dugout, which was awesome.
Last, but certainly not least, Freddy Garcia threw a perfect ninth inning to nail down the win. Two ground balls to third and a strikeout. Nice and easy.
Box Score, WPA Graph & Standings
MLB.com has the box score and video highlights while ESPN has the updated standings. The Orioles lost to the Rays, so the Yankees are now one game up in the AL East with two to play. The magic number is just two. I suppose it's worth noting that with the win, the Athletics would now have to come to the Bronx for a potential wildcard play-in game if it comes to that. Prior to this game the Yankees would have had to go out west. That's clinched, Oakland can't win home field advantage back.

Source: FanGraphs
Up Next
The weather forecast isn't great, but these same two teams are scheduled to play the penultimate game of the regular season on Tuesday evening. David Phelps, not Ivan Nova, will get the ball against Jon Lester. Make sure you check out RAB Tickets for some last minute deals if you want to catch the game.