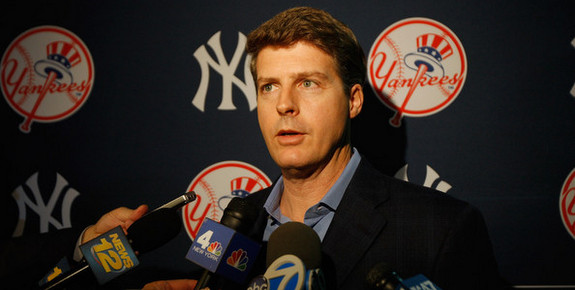 The regular season ends tomorrow, so all across the league owners are spending the final series with their teams as they look forward to the postseason, search for answers, or just want to pal around with the fellas after being off-the-radar for the last six months. Maybe it's all three in some cases.
Hal Steinbrenner was at Yankee Stadium yesterday, and he briefly spoke to the media prior to last night's blowout win. Hal isn't his father, so there wasn't anything too exciting to come out of the media session. There is still some stuff to talk about, however. The following quotes come courtesy of George King and Bryan Hoch.
On whether jobs depend on how the Yankees finish the season…
"Are jobs riding on this? Not that I know of. Jobs are not riding on this and that's not something I am concerned about right now. We look at everything in the off-season as we always do."
In our recent polls, the majority of RAB readers said that neither Brian Cashman nor Joe Girardi should be fired or would have been fired had the Yankees failed to qualify for the postseason. A wildcard spot is clinched, but I suspect that sentiment will not change regardless of how the Yankees finish the season.
Cashman is under contract through 2014 and I never really thought/still don't believe his job is in any kind of jeopardy. Girardi's contract is up after next season and I was in the "he shouldn't be fired but will be" camp with regards to his job security had the Yankees missed the postseason. He a fine manager, not great and not terrible, but five years is a pretty long time for stick around in this business. With Terry Francona available and waiting to be hired, my gut said Joe would have been the easy scapegoat.
On the tight race in the final month of the season…
"I am excited, I think we all would like a bit more breathing room, we have zero breathing room. But the guys have been playing tough and we have (Mark Teixeira) back Monday night and he will give us a boost so I am excited … I was concerned (about blowing the ten-game lead), I wouldn't say I was worried. These guys know what is expected out of them. They are professionals. I had no doubt they were going to persevere the best they could. We kept getting a big guy back and another big guy goes out and it's frustrating after a while. But we have everybody back now and we are at full strength and we will keep pressing on."
Nothing really to add here, I just find it a little funny that he was "concerned" and not "worried." I know there's a difference, but I still got a nice chuckle out of this.
On the plan to get under the $189M luxury tax threshold by 2014…
"I've made it clear that it's very important to me for several reasons. Again, you're talking about a 10 percent reduction in payroll. I don't see that as an outrageous concept. I never have."
The 2014 payroll plan was just a well-sourced rumor until Steinbrenner (and Cashman) confirmed it back in Spring Training. I don't know of any fans that actually like the plan since what the hell, if you have the money spent it. That said, I think we can all understand why they're striving to get under the luxury tax considering the potentially enormous savings. That doesn't mean we have to like it, but part of me is hoping that it will force the team to be smarter with their spending and decision making. A $189M payroll is still nothing to sneeze at anyway, if they can't contend with that then the problems go well beyond the money.