Got five questions for you this week, and none of them are directly tied to the ALDS. Consider this a break from the playoffs for a few hours. Remember to use the Submit A Tip box in the sidebar to send us questions.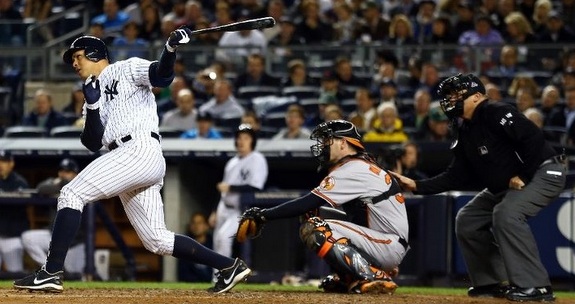 Bill asks: If the Yanks were to buy out A-Rod's contract (not saying they should just if they did) would his salary still count towards the team salary for getting under the $189 million limit?
Yeah, it would. According to the Collective Bargaining Agreement, player salary that counts towards the luxury tax is "the value of the total compensation (cash or otherwise) paid to a Player pursuant to the terms of a Uniform Player's Contract, including any guarantee by the Club of payments by third parties, for a particular championship season. Salary shall include, without limitation, the value of non-cash compensation such as the provision of personal translators, personal massage therapists, and airfare and tickets exceeding normal Club allotments."
In English, that means anything a team plays a player will count towards the tax. The structure of the buyout would determine when and how much applies to the luxury tax calculations. There are five years and $114M left on A-Rod's contract after this season and the Yankees are goimng to pay every penny. They're not trading him, he's not going to retire, and they're not going to negotiate a buyout so they can cut him loose. It's not happening. He'll be around until 2017 whether you like it or not. Ownership made their bed and now they'll have to sleep in it.
Nick asks: Do you think that Jayson Nix could wind up on the Yankees again next season?
I definitely think it's possible. Nix, 30, will be arbitration-eligible for the first time this winter and will probably still be in line for a six-figure salary next season. I have a hard time seeing a career up-and-down bench player with a .214/.285/.371 batting line pulling in more than a million bucks his first time through arbitration.
Nix is a useful role player capable of playing a ton of positions and providing some offense against left-handers, so it makes sense for the Yankees to hold onto him. He shouldn't deter them from acquiring a better utility infielder if one comes along this offseason, the only problem is that he is out of minor league options and can't be sent to the minors next season without clearing waivers. I wouldn't call Nix a lock for the 2013 roster by any means, but there's certainly a chance of it happening.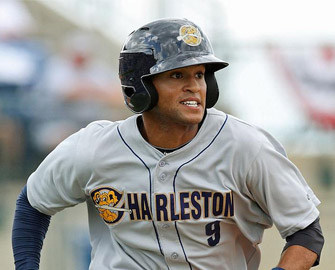 Austin asks: What do you make of recent Baseball America questions regarding Mason Williams' makeup/attitude? Isn't this Gary Sanchez 2011 stuff?
Well, the Sanchez stuff last season was so bad that the team had to send him to Extended Spring Training for disciplinary reasons. He refused to pinch-hit in a game and catch a side session, which is a major no-no. The Williams stuff was reported as "a few headaches," which frankly is the first I've heard of him having any kind of real makeup problem. Mason has been knocked for being too hard on himself and getting frustrated with bad at-bats or plays, but nothing that created a problem with other players or coaches. We'll have to pay attention to this in the future, because this report did catch me a bit off guard.
JW asks: Here's a mailbag question: assume Rafael Soriano opts out and the Yankees make a qualifying offer. Under the new FA compensation rules, does it project that the signing team would have to give up a draft pick? I know that the number of players whose signing warrants giving up a pick has been reduced by a lot.
Under the new system, a team would have to forfeit a draft pick to sign a top free agent (who has received a qualifying offer), but that pick does not go to the player's former team. It just disappears. The former team receives one supplemental first round pick instead, which is pulled out of thin air like the old system. I assume the Yankees will make Soriano a qualifying offer if he opts out because he'd be walking away from more money ($14M) by opting out than he would get through the offer ($13.3-13.4M). I have no idea who would give up a draft pick to sign him but it doesn't really matter — the Yankees will end up with the same compensation pick no matter where he ends up.
GB asks: If Curtis Granderson, CC Sabathia, Phil Hughes, Mark Teixeira, David Robertson, Alex Rodriguez and Derek Jeter were all FA's after this season, what kind of contracts would you see them getting?
Well this is a fun one. I have an amazing knack for underestimating free agent contracts, but I'll give this my best shot anyway…
Granderson — 40+ homer power is rare, so that alone will get Curtis paid at age 31. Clubs will probably be gun-shy because of Jason Bay, but his four-year, $66M deal with the Mets seems like an appropriate benchmark.
Sabathia — Despite the elbow injury and sub-par second half, Sabathia would still wind up with $20M+ a year easy. Frankly I bet he could match the five-year, $122.5M deal he signed with the Yankees last winter if he went back out onto the open market this year. Pitchers of Sabathia's caliber very rarely hit free agency.
Hughes — How does four years and $40M sound? Phil is only 27, so you'd theoretically be buying all of his peak years and expect some improvement going forward. Maybe $44-48M would be closer to reality as a free agent.
Teixeira — At this point, age 32, Teixeira is just a touch above the first base league average offensively (115 vs. 106 wRC+) while remaining a stud with the glove. First baseman make more money than anyone, so I think another Bay-like four-year, $66M deal would be in the cards.
Robertson — A stud reliever at age 27 is a prime candidate to get overpaid, especially if someone plans on making him a closer. Joaquin Benoit's three-year, $16.5M deal with the Tigers seems like the floor here. Three or fours years at $6-7M annually wouldn't surprise me at all.
A-Rod: Not much right now, probably like two years and $20M with most of that coming on reputation.
Jeter: The Cap'n is in a weird spot because I don't think any other team would pursue him as a free agent. Not because he's a bad player or anything, but because of the "Yankees or retirement" vibe. Could Jeter match the three-year, $51M contract he signed two years ago this offseason? Yeah, I think he might be able too.