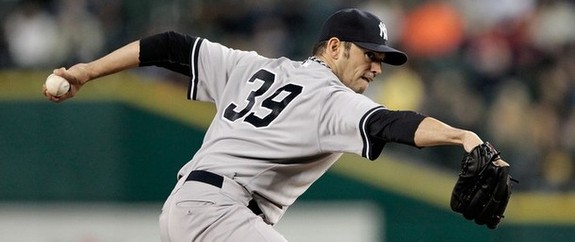 The Yankees will play their 162nd game of the season tonight, a game that could either give them the best record in the AL or contribute towards playing a one-game division tie-breaker against the Orioles tomorrow. The bullpen was used heavily in last night's extra innings win but not to the point where one of the core relievers should be unavailable tonight. Even after throwing 43 pitches in two innings, I'm sure Rafael Soriano will be out there in the ninth if need be.
Joe Girardi's crop of trusted relievers is well-defined at this point, and one reliever who appears to be outside the Circle of Trust™ is second left-hander Clay Rapada. The funky 31-year-old sidewinder has appeared in 69 games this season, the second most of anyone in the bullpen outside of 80-appearance man and primary lefty Boone Logan. Rapada, however, has been kept on ice lately despite ample matchup opportunities. He's thrown just one pitch (!) since September 23rd, a one-batter appearance on September 27th. One pitch (resulting in a pop-up) in the team's last ten games.
From late-August through mid-September, Rapada made ten appearances and faced exactly one batter in nine of them. Of a 12 total men (11 lefties) he faced during that time, five reached base (three hits and two walks). One of those three hits was by the lone right-handed batter. Maybe that shook Girardi's confidence in him. Rapada replaced Ivan Nova in the third inning of the extra innings comeback win over the Athletics two weeks ago, allowing a run while recording four outs. That's basically been it, he's made just two appearances since.
Now I get that Logan was excellent earlier in the season and that he's earned Girardi's trust in big spots, but Rapada has actually been more effective against same-side hitters this season. Here's a quick breakdown of their performances against lefties…
| | TBF | AVG | OBP | SLG | wOBA | K% | BB% | GB% |
| --- | --- | --- | --- | --- | --- | --- | --- | --- |
| Rapada | 114 | 0.185 | 0.265 | 0.257 | 0.241 | 28.1% | 9.7% | 44.9% |
| Logan | 133 | 0.230 | 0.293 | 0.372 | 0.294 | 31.6% | 7.5% | 37.5% |
Not the biggest of sample sizes, but that's what you get when you're dealing with lefty relievers. Both guys have done the job well this year, but Rapada has been a bit more effective despite marginally worse strikeout and walk rates. It's a luxury to have two quality left-handed relievers, especially late in the season when rosters expand and matching up isn't much of an issue, and the Yankees are one of just two AL playoff teams with that luxury. The Athletics and their duo of Jerry Blevins and Sean Doolittle are the other.
The final game of the season is tonight, so there's nothing Girardi can do now to shift some of the left-handed matchup workload from Logan to Rapada. Hopefully Rapada won't be rusty if he gets the call against the Red Sox, but either way both guys will be on the playoff roster and there's little reason to favor one over the other. Logan has been a little shaky of late but still solid overall, yet Rapada is a bit of an untapped weapon right now. Giving him a little more responsibility shouldn't be an idea that is completely off the table.