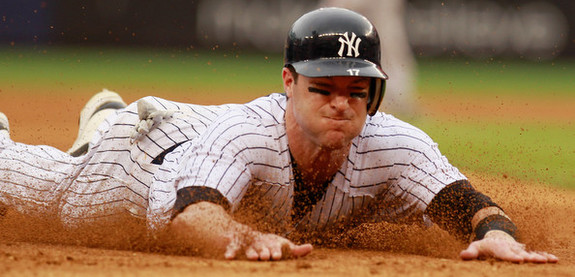 Bits and pieces have trickled out over the last few days, but the Yankees finally announced their full 25-man roster for ALDS. It was officially due at 10am ET today. Here we go…
Pitchers (11): RHPs Hiroki Kuroda, Phil Hughes, Rafael Soriano, David Robertson, Joba Chamberlain, David Phelps, and Derek Lowe. LHPs CC Sabathia, Andy Pettitte, Boone Logan, and Clay Rapada.
Catchers (2): Russell Martin and Chris Stewart.
Infielders (7): 1B Mark Teixeira, 2B Robinson Cano, SS Derek Jeter, 3B Alex Rodriguez, IF Eduardo Nunez, IF Eric Chavez, and UTIL Jayson Nix.
Outfielders (5): Ichiro Suzuki, Curtis Granderson, Nick Swisher, Brett Gardner, and Raul Ibanez.
As expected, Andruw Jones did not crack the roster following his dreadful second half. Nix grabbed the last roster spot after working out the last few days and showing no ill-effects of the left hip flexor strain that sidelined him for a week. Having him on the bench will free up Joe Girardi to use Nunez a little more liberally, either as a pinch-hitter (for Ibanez against left-handers, primarily) or pinch-runner. Gardner has been cleared to swing the bat, but his main purpose will be pinch-running and defense.
Lowe beat out Ivan Nova and Cody Eppley for the final bullpen spot, which isn't a big surprise. Nova has pitched terribly in the second half and Eppley is basically the same type of pitcher as Lowe, but he can't go multiple innings or provide the whole "been there, done that" veteran experience thing. I'm curious to see how Phelps will be used, meaning as a true long man or a middle innings setup man. I have a feeling Lowe will get any important work in the fifth and/or sixth inning. Sabathia will start Game One tonight and be followed in order by Pettitte, Kuroda, and Hughes.