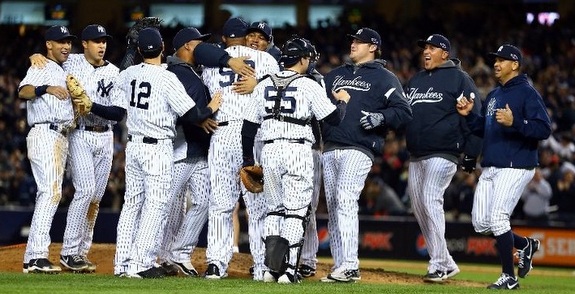 I gotta tell ya, those Orioles put up one hell of a fight. I don't just mean in the ALDS, they were giving the Yankees problems all season and especially down the stretch in September. They were never able to take that next step and pass New York in the standings though, including in Game Five last night. Give the Yankees some credit, they could have easily wilted down the stretch and let the underdog waltz on by and into first place. It didn't happen.
1. I know he threw 121 pitches last night, but I don't see how the Yankees could not bring CC Sabathia back on three days' rest for Game Three of the ALCS. If the Yankees keep him on regular rest for Game Four, he'd only make one start in the series. That can't happen, you have to make sure he makes two starts if the thing goes the full seven games. Running Sabathia out there on short rest in Game Three sets him up to start Game Seven on normal rest (or if you're optimistic, Game One of the World Series on extra rest), which is exactly what you want. Even if they have to limit him to 90-100 pitches in Game Three, getting him back out there is the right move.
2. A huge benefit of Sabathia's complete game is that the entire bullpen got last night off. Yeah, both David Robertson and Rafael Soriano warmed up, but that's not a big deal. This ridiculous playoff schedule will force the Yankees to play five days in five days, the first three of which are already in the books. Joe Girardi can now nuts with Robertson and Soriano these next two days knowing Monday is a scheduled off-day. That's huge and it shows exactly why the impact of Sabathia's gem extends beyond last night.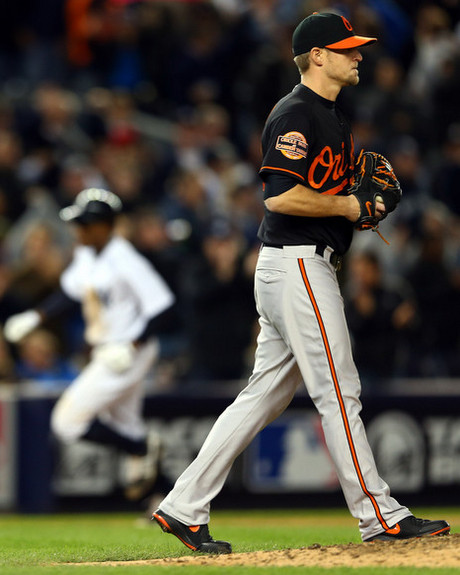 3. At this time yesterday I was pining for Curtis Granderson to be benched because he was such a non-factor in the series. Today I'm hear to tell you that I thought last night was very encouraging. You could see his at-bats get progressively better — line out the first at-bat, line drive single in the second at-bat, homer in the third at-bat — and overall he just looked much more in control. It felt like Granderson was so anxious to swing that he was starting his bat before the pitcher released the ball earlier in the series, but yesterday he remained patient and let the pitcher come to him. "The big thing for Grandy is to swing at strikes … If he swings at strikes, he's going to do damage," said Joe Girardi prior to Game Five, and that's exactly what Curtis appeared to do. By no means is he out of the woods, but at least now he has positive results to build on.
4. Because the Yankees are going to play five games in five days, Russell Martin will have to spend five consecutive games behind the plate. I don't think that will be a big deal at this point of the season, he's clearly the number one catcher and the playoffs are not the time to be resting regulars, but I am concerned about him wearing down a bit. Martin has a history of performing (substantially) better with regular rest, and the last thing the Yankees need right now is another dead spot in the batting order. Unfortunately there's just no way they could take him out of the lineup right now.
5. We all know the Tigers have a strong rotation and that great middle of the order, but one area where I feel the Yankees have them beat is in the bullpen (and on defense, but that's another matter entirely). Jose Valverde is very beatable (especially of late) and Joaquin Benoit is a homer machine. Seriously, dude allowed 14 homers in the regular season (71 innings) plus another one in the ALDS. Justin Verlander, Doug Fister, Anibal Sanchez, and Max Scherzer are as tough as playoff rotations get, so the key will be waiting them out and forcing Jim Leyland to dig into that bullpen. The Yankees have been doing that for years and will need to do it again in the ALCS, and I think a staff of fastball-first right-handers is a better matchup for New York than some of the kitchen sink guys Baltimore ran out there. That relief corps is very combustible.