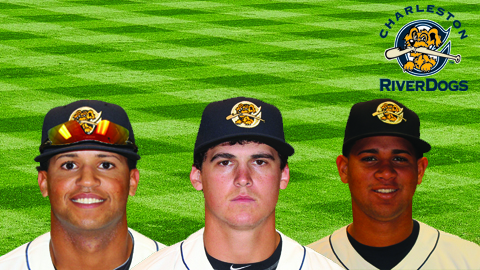 After getting shut out of the Gulf Coast League and NY-Penn League lists, the Yankees finally landed some prospects on one of Baseball America's league top 20 lists. The Low-A South Atlantic League list was released today, with hard-throwing Marlins RHP Jose Fernandez claiming the top spot. OF Tyler Austin and C Gary Sanchez placed fourth and fifth, respectively, behind Fernandez, SS Trevor Story (Rockies), and OF Gregory Polanco (Pirates). OF Mason Williams was a little further down at nine. The list is free for all, no subscription is required.
"(Austin) has a great approach at the plate. He's a gamer. This is the kind of kid you want on your team. He has the ability and the desire, and that's a great combination," said an opposing manager in the subscriber-only scouting report. Baseball America lauds the 21-year-old's offensive skills — "a balanced approach, terrific hand-eye coordination and good strength … makes hard contact with solid power to all fields" — while noting his improved defensive skills in right field. My Minor League Player of the Year posted a 175 wRC+ with 14 homers in 309 plate appearances for the River Dogs this season.
Sanchez, 19, ranked 14th on the Sally League list a year ago and the offensive scouting report is relatively unchanged. The publication lauds hit ability to square up pitches and hit for big power — "You see the power he possesses and you say, 'You got to be kidding me,'" said an opposing manager — but knocks him for his defense. Sanchez has a strong arm and can thrown out base-stealers, but he struggles with his receiving and there are concerns about his work ethic. He produced a 137 wRC+ with 13 homers in 289 plate appearances for Charleston this summer.
The 20-year-old Williams was further down the list than I expected, as Baseball America knocked him for his makeup. "He reportedly caused a few headaches for the Charleston staff and turned off observers with the way he carried himself on the field," they wrote, while one NL scout said he has "got tools but needs to be humbled." At the same time, he was praised for his "plus-plus speed and center-field defense," as well as his "quick bat and average power." Williams hit to a 129 wRC+ with eight homers and 19 steals in 311 plate appearances for the River Dogs before being promoted.
Here is the full top 20 schedule. The next list of interest to Yankees fans is the High-A Florida State League, which will be released next Monday. Sanchez, Austin, and Williams likely did not spend enough time with High-A Tampa to qualify for the list, but OF Ramon Flores, LHP Nik Turley, and RHP Jose Ramirez sure did. I'm not sure that any will make the top 20, but they should have at least garnered consideration. OF Slade Heathcott and RHP Mark Montgomery are right on the playing time bubble and should make it if eligible.