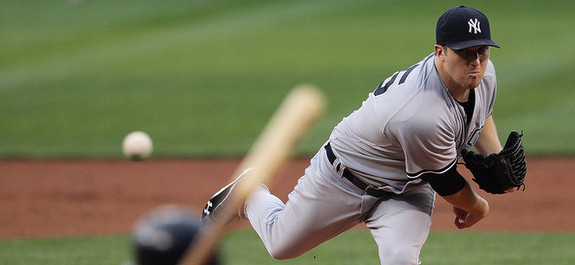 The 2011 season was a nightmare for Phil Hughes, who battled shoulder and back injuries after logging a (by far) career-high workload the year before. He came into the 2012 season not necessarily as a virtual lock for the rotation, but he definitely had a leg up on Freddy Garcia for one of the final spots behind CC Sabathia, Ivan Nova, and Hiroki Kuroda. Michael Pineda's shoulder injury took care of the rotation logjam and Hughes had himself a rotation spot.
Phil was terrible in April, but we'll talk about that a little bit later today. Right now we're going to focus on his season starting in May, when he turned things around and became a key cog in the rotation. It all started in Kansas City, a few days after Mariano Rivera blew out his ACL on the warning track. Hughes put together his best start of the season (to date) against the Royals, striking out seven while allowing three runs in 6.2 innings. It wasn't great by any means, but compared to April, he looked like Cy Young.
That start against Kansas City was a jumping-off point for Hughes, who followed up with 7.2 innings of one-run ball against the Mariners and five total runs allowed in his next three starts. The Angels pounded Phil in his hometown in his first June start (seven runs in 5.1 innings), but he rebounded to allow just one run in a complete game win over Justin Verlander and the Tigers his next time out. After that win over the Royals, Hughes allowed no more than two earned runs in eight of his next ten starts and in 14 of his next 20 starts to drop his ERA to 4.02 on the season.
At the end of the year, after logging a career-high 191.1 innings in a career-high 32 starts, Phil posted a 4.23 ERA and 4.56 FIP. His strikeout (7.76 K/9 and 20.3 K%) and walk (2.16 BB/9 and 5.6 BB%) rates were both better than the league average, and his 3.59 K/BB ranked tenth among qualified AL starters. From that start against the Royals through the end of the season, Hughes pitched to a 3.82 ERA (4.26 FIP) with 7.53 K/9 (20.0 K%), 2.07 BB/9 (5.5 BB%), and a 3.64 K/BB in 169.2 innings across 27 starts. He threw a strong start against the Orioles in the ALDS before exiting his ALCS start earlier this a back injury to close out the year.
Was Hughes the ace-caliber pitcher he was promised to be during his prospect days? No, of course not. That ship has all but certainly sailed. That doesn't mean he isn't a valuable contributor though. Hughes was a rock solid mid-rotation starter for the Yankees this season, especially following his disastrous April. He has two big league seasons as a full-time starter in the AL East under his belt (2010 and 2012) and has been roughly league average both times while making a bit under $4M in the process. He could improve going forward, but what he did in the final five months of the season was enough to help the Yankees win another division title.