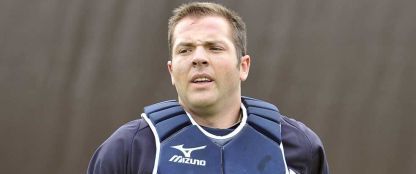 The Yankees came into this season knowing Russell Martin was going to be their full-time catcher, but the backup job was up for grabs. Frankie Cervelli was the incumbent and Austin Romine was the high-ish profile prospect who broke into the show as a September call-up a year ago, so the best man in Spring Training was going to win. As it turned out, neither had what it took.
Austin Romine
Romine, 23, wound up with taking exactly zero plate appearances in Spring Training. He dealt with back inflammation — an injury that caused him to miss time last summer as well — in camp and suffered a setback towards the end of March. Romine didn't get into minor league rehab games until July and it wasn't until late-August that the Yankees activated him off the DL and send him down to Triple-A. He wasn't brought back for a September call-up.
All told, Romine batted just 195 times between the minor league regular season and the Arizona Fall League in 2012. Instead of possibly spending the year cutting his teeth as the big league backup, it was a lost season in which the Yankees were unable to find out anything about Romine at the Major League level. Pretty much the only good news was that they never actually burned a minor league option this year, so he still has all three left. Some consolation prize.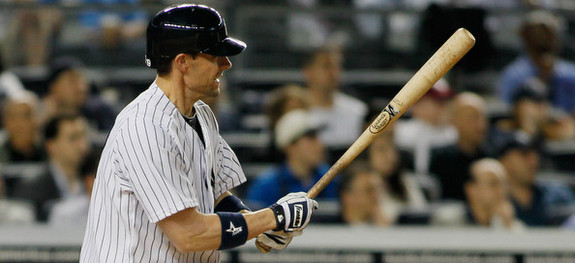 Chris Stewart
The Yankees were concerned about their upper level catching depth in the wake of Romine's back injury, so at the end of Spring Training they swung a somewhat surprising move, sending right-hander George Kontos to the Giants for the 30-year-old Stewart. Just like that, the team had a new backup catcher and the competition in camp was rendered moot.
Stewart, true to his reputation, didn't hit a lick this year. He got on everyone's good side with a handful of timely RBI singles in April, but overall he produced just a .241/.292/.319 (65 wRC+) batting line in 157 plate appearances. I thought his defense was solid but not as good as advertised — he threw out only eight of 35 attempted base-stealers (22.9%), for example — so Stewart struck me as a classic Nichols' Law catcher. Considering the team's midseason bullpen woes, Kontos (2.47 ERA and 2.80 FIP in 43.2 innings for the Giants) would have been a nice piece to have around.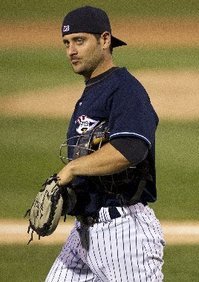 Frankie Cervelli
There was no more room left at the inn after acquiring Stewart, so the Yankees demoted Cervelli to Triple-A at the end of Spring Training. As if that wasn't bad enough — Cervelli hadn't spent extended time in the minors since 2009 — the Triple-A squad had to play on the road all season due to extensive renovations at PNC Field in Scranton. Frankie went from being the team's backup catcher to a full season's worth of bus rides in about five minutes.
Cervelli, 26, was supposed to go down and show the team what a huge mistake they had made, but instead he hit just .246/.341/.316 (89 wRC+) in 417 plate appearances. The Yankees recalled him  as the third catcher in September but only got him into three games due to the tight race with the Orioles. To Cervelli's credit, he worked a hard-fought two-out, six-pitch walk in his first of two big league plate appearances, coming around to score the game-winning run in the 12th inning against the Red Sox in Game 161. Nice moment, but hardly a season worth remembering.