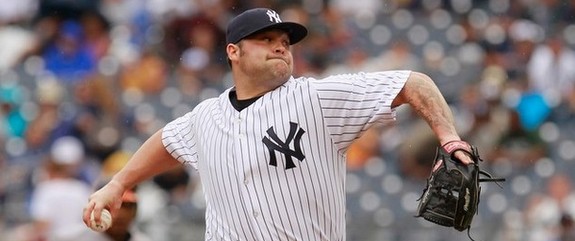 Tom asks: I've seen people suggest that Joba Chamberlain's career is a failure with the reasoning that when he was a prospect, he was promised to be something so special that even considering the attrition rate for prospects, he should have turned out better. Are you happy with Joba's apparent role now as a good relief pitcher?
Oh no, he's absolutely not a failure. Joba was selected with the 41st overall pick in the draft and here's the full list of players taken with that pick who have been above replacement level in their career.
That's it, ten guys and Joba is currently the third best with a chance to climb into second before things are all said and done. The Yankees have gotten plenty of return on their draft pick and $1.1M signing bonus, so there's no way he can be considered a failure.
Now, being a disappointment is another matter entirely. Joba will billed as an ace-in-waiting — "Chamberlain fits the No. 1 starter profile in nearly every way," wrote Baseball America (subs. req'd) when they ranked him as the third best prospect in baseball prior to 2008 — as a prospect and he has not delivered on that promise, so in that sense he's a disappointment. There's wasted talent here in that he's been used primarily as a reliever when he had the stuff to start, but the team played a big role in that obviously.
The Yankees gave Joba only 33 full/unrestricted starts (3.88 ERA, ~4.00 FIP) and ten pitch-count limited starts to prove his worth in the rotation in 2008 and 2009. As a 23-year-old in 2009, he pitched to a 4.34 ERA (4.43 FIP) in 24 starts and 130.2 innings before being limited during the final month of the season, when he got hit pretty hard. He didn't light the world on fire from April through August, but that performance in the AL East at that age doesn't strike me as something that warrants being banished to the bullpen for good. That's what happened though. It is what it is.
Joba set the bar crazy high with his out of this world 2007 debut and that led to unrealistic expectations that were impossible to meet. He also didn't do himself any favors through the years by showing up to camp out of shape and getting arrested for DUI, so I don't want to make it seem like I'm absolving him of blame for the failure to reach his ceiling. I wanted Joba to get more time to show what he could do as a starter but that didn't happen, so I'm disappointed. In no way is having one decent year as a starter and 3+ years as a good to great reliever a failure though. Not at all.