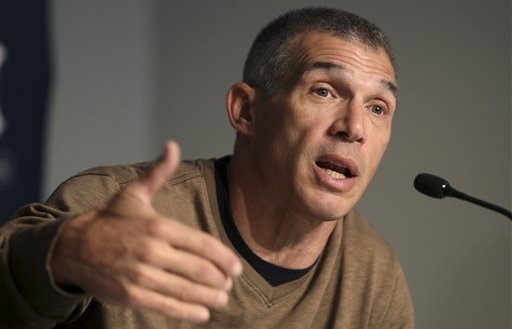 All 30 managers meet with the media for 30-ish minutes during the Winter Meetings, and Joe Girardi held his Q&A session late this afternoon. It's pretty typical of Yankees people to speak a lot of words but not actually say much, and this was no different. I don't have the audio to share because the quality is awful, but here's a recap…
On Alex Rodriguez's injury
Girardi confirmed what Brian Cashman said yesterday, that A-Rod didn't say anything about his hip until being pinch-hit for in Game Three of the ALCS. "His hips weren't firing right. It wasn't pain but he felt it was not the explosiveness … I was somewhat worried because he'd been through it on his right hip and you'd think he'd know what the feeling was like. It wasn't firing the way he thought."
A-Rod went for an MRI on his right hip after the game, and when it came back clean Girardi kept playing him. He did acknowledge Alex "did look different than he did before he got hurt." The team doesn't know exactly when the injury happened.
On losing A-Rod for the first half of next year: "It's big. You go into an offseason and you feel you have to address certain areas and all of a sudden you get a little bit of a surprise. It's a pretty big hole to fill, and it may not necessarily be (filled) with one person."
"I'm not sure," said the skipper when asked about any tension in his relationship with A-Rod. "It probably answers a lot of questions — he wasn't the Alex we saw before the injury. Now we have a reason, possibly why."
On various health issues…
"When you have these types of injuries you worry about setbacks" said Girardi about A-Rod and Derek Jeter. He's not so concerned about their range in the field because they'll be healthy after their operations, plus their range already stinks anyway. (Girardi didn't say that last part)
"Derek's progressing well … We see him in a walking boot and he's starting to be able to do some (rehab) things," said Girardi. "Alex we're not going to know until we get a little further down the road."
A-Rod figures to see more time at DH when he initially returns to help get him back into playing shape.
CC Sabathia's rehab from surgery to shave down a bone spur in his elbow is is coming along "great."
"I don't think so, I think (they're) okay," said Girardi when asked about Curtis Granderson's offseason vision exam.
On the forgotten man: "Obviously our hope is we get (Michael Pineda) back at some point in the summer."
On the catching situation…
On not matching the two-year, $17M contract Russell Martin took from the Pirates: "I understand that things happen for a reason. I think that sometimes people assume the New York Yankees are the New York Yankees and there are no budget constraints, but there are. I think that's part of the reason why he wasn't re-signed."
As of right now, there will be an open competition between Chris Stewart, Frankie Cervelli, and Austin Romine in Spring Training.
If those are his guys, Girardi says the catching load may be split evenly rather than a traditional starter-backup situation. That said, he will ride the hot hand if someone is performing.
On the pitching staff…
"I think it's fair to say" the top four is set with Phil Hughes in behind Sabathia, Hiroki Kuroda, and Andy Pettitte.
"I feel pretty good about our rotation … I think there's some depth there with Phelpsie," said Girardi. I thought it was interesting he mentioned David Phelps as the depth guy, does that mean Ivan Nova has a leg up on the fifth starter's spot?  Girardi did confirm those two are the favorites for the final rotation spot and that there aren't any other internal options. Sorry, Adam Warren.
On potential roster moves…
Obviously the team is having discussions about various trades and free agent scenarios to replace A-Rod. "I can tell you by Opening Day we'll have a resolution … I don't know if it'll necessarily happen in the next 2-3 days … I've gotten used to seeing moves made fairly late."
"I think you have to assume those guys can play out the whole year," said Girardi on finding an infielder who can be more than a backup and play a full season if need be. "If it takes two guys to (replace A-Rod), it takes two guys."
Girardi doesn't think we'll see the full impact of the plan to get under the $189M luxury tax threshold in 2014 until the trade deadline of that year, when they try to make a move and the budget room won't be there.
When asked about talks with Ichiro Suzuki, Girardi said he wasn't the guy to ask. "We have a lot of interest in a lot of players we're not necessarily going to talk about at this time."
Miscellaneous notes…
On Eduardo Nunez: "Depending on what moves we make this offseason, (it) might tell you how much he has to play other positions. I expect him to be more of a shortstop."
The bullpen is pretty well set right now but there will be some competition in Spring Training. Girardi mentioned left-hander Cesar Cabral by name.
And finally, a quote on the team's prospects and internal options to replace A-Rod: "We really don't have anyone that has a lot of experience in that position. David Adams played some third base last year for us in (Double-A) as he moved up, and I think he played some in fall ball, but we don't really have a lot of internal people … If you feel that they're ready, try 'em. They have to be prepared to play at that level and at a high-level on an everyday basis."