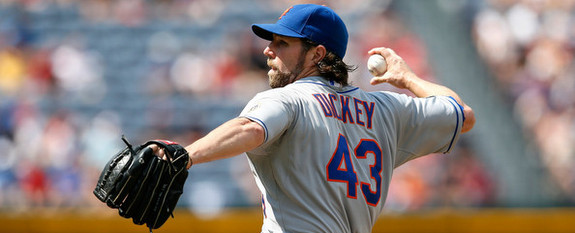 Baseball news is going to start to slow down in a day or two because of the holidays, and it won't be until after the new year that things pick back up. Sure, there will be a move or three between Christmas and New Year's, but GMs and agents and players tend to take it easy that week. Can't really blame them, it's a 24/7/365 profession and everyone needs a break at some point.
1. Now that R.A. Dickey has officially been traded to the Blue Jays, I sorta hate that I'm going to have to root against him. He was a blast to watch on the other side of town this season, and I don't think he'll have a ton of trouble switching leagues. Yes, the parks aren't as friendly in the AL East, but he'll still be well-above-average if not ace-caliber. Someone (I believe Bill Petti) has done recent research showing that the knuckleball removes some of the hitter's skill from the equation in the pitcher-batter matchup, which would obviously serve Dickey well in the tougher league. The one real criticism I have of the Rays over the last few seasons is their unwillingness to make the big move to go for it, but we certainly can't accuse the Blue Jays of that. The see an opening in the division and are going for it like hell.
2. So what changed about the Yankees' evaluation of Russell Martin over the last 12 months? They offered him that three-year, $20M-something extension last offseason after the new Collective Bargaining Agreement (and incentives to get under the luxury tax) were in place, yet they wouldn't go near the two-year, $17M deal he took from the Pirates a few weeks ago. Do they think his offense will continue to decline? That he's not a safe bet to stay healthy the next two years given his big career workload? Is his defense not as good as advertised? The Yankees have passed on a ton of free agents over the years and for the most part you can understand why. With Martin, given the dearth of quality catching, it just makes no sense to pass on that price even with the 2014 payroll plan looming, especially since they were so willing to give Ichiro Suzuki two years. So weird.
Late Add: Forgot to include this in the original post, but isn't Martin + Chris Dickerson > Chris Stewart/Austin Romine/Frankie Cervelli + Ichiro + $4M? Doesn't that seem obvious?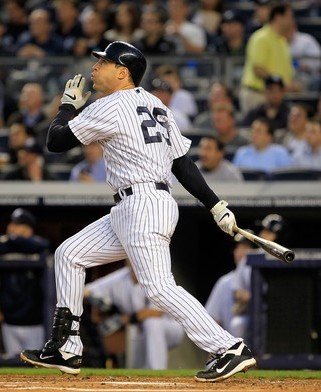 3. This is worthy of a larger post later in the offseason, but is there a more important Yankees position player right now than Mark Teixeira? Given the offensive hits the team will take in right field and behind the plate (Derek Jeter is unlikely to hit .316/.362/.429 again as well), the Yankees badly need to Tex to halt his decline and get back to his 30+ homers, 125+ wRC+ ways. I'm not asking him to hit like he did from 2005-2009 (141 wRC+), but he needs to do better than a .332 OBP. Hopefully good health — remember, he had the cough and wrist issues in addition to the calf problem this past year — will help Teixeira improve his offense next season. The Yankees need him to be a middle of the lineup force again. It's imperative.
4. Here's the list of unsigned free agents; anyone in particular you want to see the Yankees sign before Spring Training? The big names are Michael Bourn and Scott Hairston and Shaun Marcum and A.J. Pierzynski and blah blah blah. I'm talking about someone off the beaten path, like infielder Ronny Cedeno (110 wRC+ vs. LHP in 2012) for the bench or right-hander Matt Lindstrom (2.85 ERA and 3.24 ERA from 2011-2012) for the bullpen. I'd love to see right-hander Tim Stauffer (3.15 ERA and 3.72 FIP from 2010-2011 before elbow surgery in 2012) on a minor league deal to stash in Triple-A for rotation depth. Any irrational favorites?