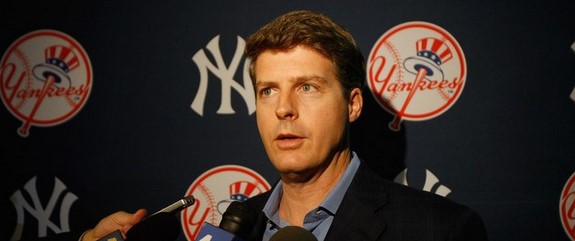 MLB's quarterly owners' meetings are taking place right now, and Ken Davidoff managed to catch up with Hal Steinbrenner for a few minutes today. The team's owner confirmed they have not had any serious talks about an extension for Robinson Cano (not new information) and acknowledged the club still needs a bat, but that's not all. There's more…
Steinbrenner, re: fans angry about team's direction: "I'm surprised to hear that there's anger, if you see what we've done this offseason."

— Ken Davidoff (@KenDavidoff) January 10, 2013
Hal: "Is our goal 189 next year? Yes. But only if I'm convinced if the team I see, that we've put together, is a championship-caliber team."

— Ken Davidoff (@KenDavidoff) January 10, 2013
Hal: Getting under $189 mil isn't just a 1-year goal: "I believe that you don't have to have a $220-million payroll to win a championship."

— Ken Davidoff (@KenDavidoff) January 10, 2013
First thing that comes to mind: lol.
Second thing that comes to mind: The Yankees have a natural edge over the rest of the league because of their market and it's immense money-making capabilities. Scaling back payroll even for one year is, frankly, a disservice to the fans. Doing it for multiple years is pretty close to a slap in the face. The Yankees aren't hurting for money. They just built a new stadium and will receive hundreds of millions of dollars from their YES Network deal with News Corp., not to mention all the extra cash they'll receive from MLB's new national broadcast agreements. Hal's dangerously close to saying "I know you know we make all this money, but not only are we not going to reinvest it in the team, we're going to rub it in your face too."
Whether they realize it or not — they don't based on Hal's comments — the Yankees are losing the PR war right now. The record-low ratings in our Fan Confidence Poll are not an accident. Fans are angry because they've done nothing to improve the team this offseason and plan to cut back on spending next winter. We're not splitting atoms here, it's pretty obvious why people aren't happy with the team. If ownership and front office are truly oblivious to that, then things are going to get a lot worse before they get better.
Brian Costa has a full recap of Steinbrenner's quotes, just in case you want to slam your head against the table a little more.