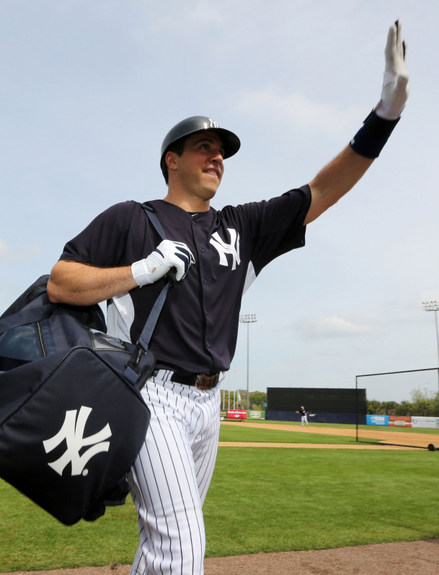 It was obvious Mark Teixeira's importance to the Yankees increased as soon as they made it clear they were willfully downgrading their offense. New York signed Teixeira to that fat eight-year contract — fourth largest contract in baseball history when it was signed — assuming he would anchor the middle of their lineup for years to come, but he simply hasn't lived up to those expectations. Teixeira was great in 2009 but has faded in recent years.
Despite that fade, Teixeira has never actually been bad with the Yankees. Last year was his worst in the Bronx but he was still a comfortably above-average hitter, producing a .251/.332/.475 (116 wRC+) line with 24 homers in 123 games. That last number was the problem though, the games played. Outside of a quad-related DL trip back in 2007, Teixeira had been a lock for 150+ games played from 2005-2011. Last summer he missed a few days with a wrist issue and more than a month with a calf strain. Let's not forget the early-season cough as well, which didn't keep him on the sidelines in the traditional sense but surely impacted his production. If we go back to 2010, there was the broken toe in September and the hamstring strain that ended his season in Game Four of the ALCS.
Thanks to Curtis Granderson's injury, Teixeira's importance to the Yankees has increased even more. They were able to withstand his declining production the last three years before their lineup (and bench) was deeper and better able to compensate. That's not the case anymore. Derek Jeter is coming off his ankle surgery and both Kevin Youkilis and Travis Hafner are injury risks, meaning the lineup is even further at risk of losing its more productive players. The Yankees not only need Teixeira to stay on the field for 150+ games in 2013, but they also need him to halt his decline and improve on his offensive performance. Maybe being healthy instead of battling through a cough and a wrist problem and a calf strain will help him do that.
"Stay healthy and have fun. That's my number one goal because I know if I stay healthy the numbers are going to be there," said Captain Obvious Teixeira to Mark Feinsand earlier in camp. "I'm going to help my team win. Have fun, because it's a long season, there's a lot of ups and downs and I've spent my entire career just trying to stay consistent. I know there are going to be low points, I know there are going to be high points. If I can have fun during both of those then I'll be able to have a great season overall."
Teixeira isn't old, he'll turn 33 about two weeks into the season. He plays a less-demanding/non-premium position and isn't at an age where he's at serious risk of falling off a cliff. His numbers — specifically his batting average and by extension, his on-base percentage — have declined because he's gotten more pull/fly ball happy, and that's not the best combination for maximizing offensive value. It's been three years since Teixeira was the all-fields monster he was earlier in his career, so it's time to stop expecting that guy to come back. Getting 150+ games of better than league average production, especially in the power department, out of Teixeira is the most important thing in 2013. If he continues to battle injury and/or sees his performance slip further, the Yankees will have a very hard time compensating.