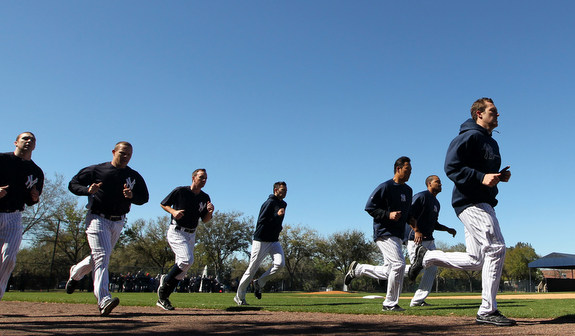 The Yankees lost quite a bit of power this offseason thanks to Nick Swisher, Russell Martin, and Eric Chavez signing elsewhere as free agents. If they're lucky, Ichiro Suzuki and the catching tandem will combine to replace the 16 homers Chavez hit by himself last season, nevermind the 45 they're losing in Swisher and Martin. That power is gone, there is no more offseason left to replace it, so the Yankees are going to have to score runs in other ways this summer.
"Well, I anticipate (the offense is) going to be different, because we don't quite have the homerun hitters we've had in the past," said Joe Girardi last week. "So we're going to have to find different ways to score runs. I think when you look at our club this year, there's more speed. You have one outfielder who has the potential of stealing 50-60 bases if he stays healthy the whole year. So I think our offense is going to be different, but I believe that we're going to score runs. It's just going to be in a different fashion than it has been in the past."
As Girardi mentioned, speed on the bases is going to more important this summer. Brett Gardner is returning from his elbow injury and he's averaged 43 steals per 150 games played throughout his big league career. Ichiro has stolen no fewer than 26 bases in any of his 12 big league seasons and Curtis Granderson has a handful of 20+ steal seasons to his credit. He only stolen ten bases (in 13 attempts) last year for whatever reason, but hopefully he runs a little more in his contract year. Given his ankle injury, I wouldn't count on Derek Jeter to steal any bases. I'm sure he'll grab a few, but they're a bonus. Eduardo Nunez might swipe a few off the bench as well.
MLB and the player's union eliminated the fake-to-third, throw-to-first pickoff move this winter, and Orioles manager Buck Showalter told Jon Morosi that he expects stolen base totals to jump as a result. "The things (that move) keeps from happening were huge … It shuts down the first and third. A right-handed pitcher had to have that move. Otherwise, you're giving up 90-feet all the time," said Showalter. The timing works out well for the Yankees, but they'll still need to actually take advantage of the rule change. That's easier said than done, but I think a brilliant player like Ichiro will figure it out. Gardner … who knows.
Speed goes beyond stealing bases as well. Going first-to-third on a single, advancing on a wild pitch, all that stuff incrementally improves a team's chances of scoring. Gardner, Granderson, Ichiro, and Nunez are the obvious candidates to pull that off, Jeter as well when healthy. Otherwise though, the lineup will be full of … wait for it … basecloggers like Mark Teixeira, Travis Hafner, and Kevin Youkilis. Those three are going to have to pick their spots, but the other guys can and will have to push the envelope more than usual this summer.
All this speed stuff sounds great in theory, but the Yankees aren't in the best division for carefree base-running. Jose Molina and Matt Wieters are both elite when it comes to shutting down the stolen base game, and outfielders like Jose Bautista, Nick Markakis, Adam Jones, and Melky Cabrera all offer cannon arms that limit first-to-thirds, second-to-homes, and other base-running exploits. Shane Victorino on the other hand … don't worry about him (part two!). It's going to be very important for the Yankees — particularly first base coach Mick Kelleher and third base coach Robbie Thomson — to know the scouting reports this year. The margin of error is smaller thanks to the power decline.
Back in November, my pal Jackie Moore noted that stolen bases are more valuable right now than they have been in the past because of the overall offensive decline in the game. The Yankees have two premium base-stealing threats in Ichiro and Gardner (assuming he actually says healthy) and a nice secondary threat in Granderson. Nunez and Jeter are wildcards. It takes an awful lot of heady running to accumulate meaningful overall value on the bases — only one player (Mike Trout) was worth more than eight runs on the bases last year — but in real life, in actual game context, a stolen base or a first-to-third in the late innings of a close game is incredibly valuable. The Yankees will need to do more of that this year than they have at any point in the last 20 years or so.