Late last week the Yankees addressed the left-handed half of what will presumably be a DH platoon, signing Travis Hafner to a one-year contract worth $2M. Pronk's power and on-base ability will be an upgrade over Raul Ibanez's offensive contributions last year as long as he stays on the field. That part is far from a given thanks to his extensive injury history.
Last season the Yankees employed — or attempted to employ before injuries an other factors interfered — an unorthodox DH platoon that consisted of playing Eduardo Nunez in the field against left-handers while either Derek Jeter or Alex Rodriguez served as the DH. I expect them to try a similar arrangement in 2013, but obviously the pieces will change. A-Rod is going to miss at least half the season due to his hip surgery, leaving Jeter and Kevin Youkilis as the infielders most of need of regular rest.
In addition to being 38-years-old, Jeter is coming off a major ankle injury that required surgery. He recently resumed baseball activities and right now it appears as though he'll be ready in time for Opening Day. Even if he is healthy and ready to go when the season begins, I still expect Joe Girardi to give him regular turns at DH just to ease him back into things following the ankle fracture. Girardi is always conservative when it comes to injuries and it makes complete sense to take it easy on the Cap'n in April. Youkilis is no stranger to the DL and he will need his fair share of DH days, but hopefully not as many as Jeter early in the season.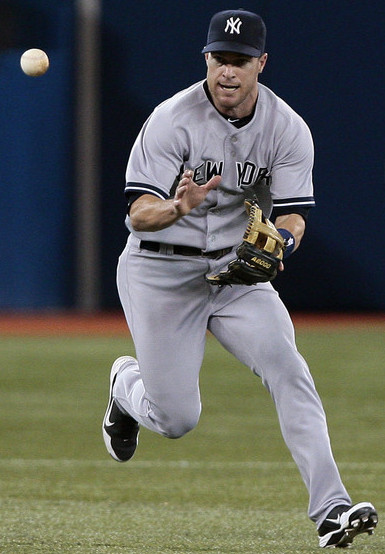 The question about who replaces Jeter or Youkilis in the field on those DH days is unanswered. Despite the club's insistence that he is most valuable at shortstop (duh), Brian Cashman recently said they would convert Nunez back into a utility infielder if he makes the team out of Spring Training. The other option is Jayson Nix, who did an admirable job off the bench last summer as the primary utility infielder following Eduardo's defense-related demotion. David Adams and Corban Joseph could receive consideration for the job, but their inability to play shortstop works against them.
Jason Bartlett is pretty much the only notable infielder left on the free agent market who can legitimately play shortstop, so it sure looks like it will be Nix or Nunez subbing in against lefties while Jeter or Youkilis spends the day at DH. Nix, 30, is steady but unspectacular in the field and below-average but adequate at the plate. The 25-year-old Nunez offers much more exciting tools in his speed, contact ability, and arm strength, but he's a big liability in the field. He has little trouble getting to balls and offers more range than Nix, but obviously he has major issues finishing the play. If the Yankees want reliability, they'll take Nix. If they want some upside, they'll take Nunez. There's not much point in arguing strongly either way right now.
Assuming the Yankees carry a right-handed hitting outfielder on the bench to platoon with their various left-handed hitting outfielders, they have three bench spots left to fill. One will go to the backup catcher, so it's really two spots. Given the weak catching tandem, I would really like to see the team carry a good left-handed bat on the bench so Girardi could pinch-hit liberally in the late-innings. Dan Johnson, who can play the corner infield spots in a pinch, could make sense for that role. It's a job that Eric Chavez would have filled perfectly, but alas. Given how unlikely the team's catchers (whoever they end up being) are to hit, I think having that dangerous lefty pinch-hitter is more of a necessity than a luxury.
If the Yankees do carry such a player, they're left with one bench spot for a utility infielder. That guy will have to be able to play shortstop and play it fairly regularly, I'm thinking two or three times a week until Jeter settles in following the surgery. Not only that, but he has to be able to run for inevitable pinch-running situations. I think Nunez is a better bet to do that than Nix, but his defense stinks. At the same time, the more at-bats Nix receives, the more his production is likely to go down. He's the type of guy who gets exposed with too much playing time. There is a scenario in which the Yankees could carry both on their bench at the start of the season, but they would be short-changing themselves elsewhere.