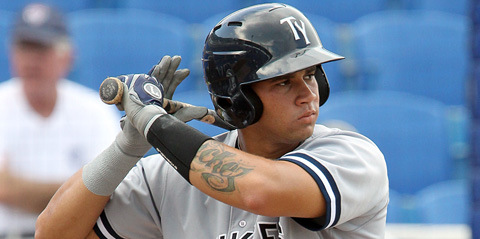 Keith Law published his annual list of baseball's top 100 prospects today (subs. req'd), a list that was predictably topped by Rangers SS Jurickson Profar. Cardinals OF Oscar Taveras and Orioles RHP Dylan Bundy round out the top three while Rays OF Wil Myers and Red Sox SS Xander Bogaerts crack the top five. Former Yankees first round pick and Pirates RHP Gerrit Cole ranks eighth while former Yankees farmhand and current Cubs RHP Arodys Vizcaino ranks 64th.
C Gary Sanchez ranks 18th and is the first of four Yankees prospects on the list. "Sanchez' offensive potential is tremendous; despite an exaggerated leg kick, he gets his lead foot down in time, keeping his weight back enough to drive the ball, even showing doubles power the other way thanks to strong hands and excellent hip rotation," wrote Law while also noting that he's an aggressive hitter but not a total hacker who will chase off the plate. He also says Sanchez "improved his receiving substantially over the previous year" and is very likely to stick behind the plate long-term.
A little further down is OF Mason Williams, who placed 35th overall. Law says he's improved at staying back on the ball but "can get a little power-happy and drop his back shoulder too much to try to elevate the ball." He also cautions that he needs to improve his patience at the plate to reach his offensive ceiling. Williams draws high praises for his defense — "a 70 grade on the 20-80 scale thanks to above-average speed and great reads even on balls that slice away from him" — which Law touts as already big league caliber.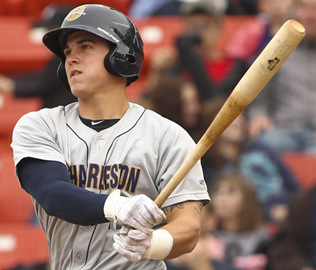 OF Tyler Austin ranks 52nd overall thanks to his bat. "Austin's swing is fundamentally sound," wrote Law, "shifting his weight just before contact, rotating his hips to drive the ball and staying balanced throughout with a short path to the ball and good extension, checking just about all of the boxes you want for a hitter's mechanics." His defense is adequate right now with a chance to become average in terms of range and arm. Austin's bat is going to have to carry him, as was always the case.
The final Yankees prospect to crack the top 100 is OF Slade Heathcott, who wasn't too far behind Austin at 57th overall. "[Heathcott] dominated the field in (the Arizona Fall League) and has a special mix of strength and quickness that might put him among the top 20 prospects in the game in a year," said Law, who calls Slade a "maniac" because of his extremely all-out style of play. He also commends his sound swing, above-average speed, and strong center field defense. Injuries remain a concern, of course.
In addition to the top 100, Law also posted a list of ten prospects who just missed the cut (subs. req'd), a list that includes RHP Jose Ramirez. "He's filled out quite a bit in the past three years," wrote Law, "with more than 200 pounds on his 6-3 frame, and will work at 94-98 mph with big-time life and a hard mid-80s slider." Injuries, specifically elbow and shoulder concerns over the last two seasons, kept him out of the top 100. Just getting consideration is pretty awesome.
I think four top-60 and five top-110 prospects is pretty darn good for the Yankees considering some of the pitching injuries this year and the fact that they've muffed some recent first round picks. Heathcott (first round) and Sanchez ($3M bonus) were high-profile additions, but Austin (13th round), Williams (4th round), and Ramirez (unknown but small bonus) were all shrewd pickups who have developed well. All five guys should reach Double-A Trenton this year and several (Austin, Heathcott, and Ramirez) should begin the season there.