Starting today and continuing through the end of the Spring Training, we're going to preview the Yankees position-by-position and on a couple of different levels.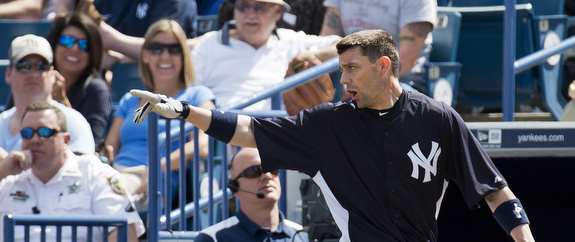 The Yankees made a lot of moves (and non-moves) this winter, but I don't think any was quite as curious as letting catcher Russell Martin depart via free agency. The club offered him a three-year contract worth $20M+ a year ago, but something changed and they didn't even bother making an offer this time around. I don't think we're ever going to know what happened behind the scenes there. Martin now plies his trade with the Pirates after taking a two-year pact worth $17M.
Since New York never bothered to find a replacement starting catcher, they're left with a hodgepodge of has-beens and never-wases behind the plate. The Yankees are very likely to receive their worst offensive output from the position since before Jorge Posada broke into the league in the late-90s. Brian Cashman & Co. have preached defense defense defense at the position since Martin left for Pittsburgh, which is fine. Punting a position offensively is no way to win the AL East, however.
The Starter
The actual starting catcher is still to be determined, but based on the way the team's decision makers talk about things, it sure sounds like Chris Stewart is the favorite. The 31-year-old was a zero at the plate — .241/.292/.319 (65 wRC+) in 157 plate appearances — as Martin's backup last summer, and there's nothing in his track record to suggest more offensive is coming. Pretty much the only thing Stewart has going for him offensively is his ability to make contact (career 12.2 K%), so maybe he'll fluke into a .350 BABIP or something.
The defensive side of the ball is where Stewart earns his money. The various catcher defense rankings (2010, 2011, 2012) consistently rate him as average or better, plus those newfangled pitch framing studies say he's one of the game's best at turning would-be called balls into strikes. Whether that defensive value is enough to overcome his offensive shortcomings remains to be seen, but the Yankees have painted themselves into a corner and must hope that's the case.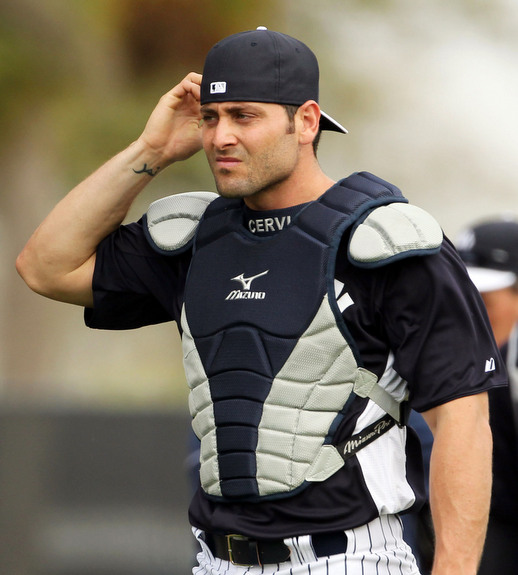 The Backup
With Stewart the likely starter, Frankie Cervelli is the odds on favorite to serve as his backup. Those two roles could easily be switched, but you know that already. Both guys are out of minor league options and Cashman has all but confirmed that ensures they will open the season in the big leagues.
Cervelli, 26, is another poor offensive player, but he is slightly better than Stewart — career .271/.339/.353 (88 wRC+) — and a bit more likely to surprisingly turn in a league-average performance. Despite coming up with a strong defensive reputation, Frankie's defense was pretty awful from 2010-2011 and was part of the reason the team replaced him last year. The club had him work on some stuff in Triple-A last summer and the early returns are positive, especially with his throwing. That has been demonstrably better in camp.
Knocking on the Door
As they tend to do, the Yankees are faking a competition this year. The three "candidates" for the starting catching spot are Stewart, Cervelli, and 24-year-old Austin Romine, who has missed much of the last two years with back problems. He can hit a little and has a good defensive reputation, but he's unrefined and in need of regular at-bats. Romine has the best long-term potential of the three catching options, but he's very likely to open the year with Triple-A Scranton. Given all the lost time, playing everyday in the minors instead of playing half-time in the big leagues is the best thing for his development at this point. He's miss a lot of at-bats since the close of 2010.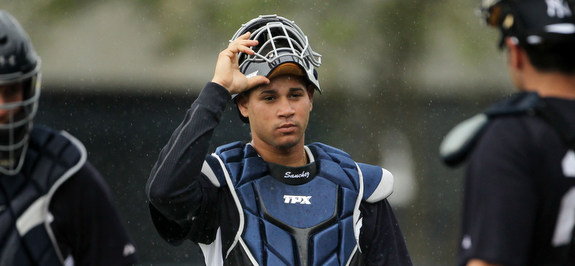 The Top Prospect
New York's top prospect behind the plate also happens to be their top prospect overall, 20-year-old Gary Sanchez. He hit .290/.344/.485 (~125 wRC+) in 474 plate appearances split between Low-A Charleston and High-A Tampa last summer, and his 18 homers led all minor league catchers. Sanchez doesn't have the innate hitting ability of Jesus Montero, but he does have a bit more power — career minor league ISOs: .193 vs. .210 in favor of Sanchez — and a far better chance of remaining behind the plate long-term. Give the catching situation at the upper levels, that's pretty good news. Sanchez is expected to return to Tampa to start 2013 and should receive a midseason promotion to Double-A Trenton, meaning the only way he will be a factor at the big league level this summer is as trade bait.
The Deep Sleeper
The good news is that the Yankees are blessed with quite a bit of catching depth, which is absolutely intentional. J.R. Murphy will start the year back with Double-A Trenton, sandwiched between Romine in Scranton and Sanchez in Tampa. Further down the later is 16-year-old Luis Torrens, who signed out of Venezuela for $1.3M last July 2nd. Despite converting from third base to catcher within the last year or so, the Yankees are expected to bring Torrens to the United States with one of their two Rookie Level Gulf Coast League affiliates this summer. His defense lags behind his offense at this point (duh), but he still has breakout potential because he has an advanced approach at the plate and can hit to all fields.
* * *
The 2013 outlook behind the plate at the big league level is pretty grim at the moment, and it will almost certainly be New York's least productive position this summer. That isn't surprising in and of itself, but the possibility of the catching tandem being several standard deviations below average is. Say what you want about Martin and his low batting averages, but he was close to a league average hitter with the Yankees (98 wRC+) while being above-average defensively and even on the bases. That's an above-average player and the team will go into this season with a clear downgrade.