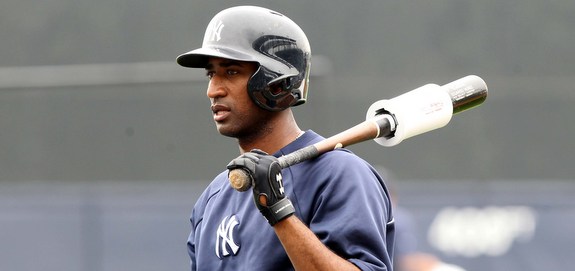 We've known for months that Derek Jeter might not recover from his fractured left ankle surgery in time for Opening Day, but that all but came a reality this weekend when Brian Cashman acknowledged the Cap'n is very likely to open the season on the DL. The 38-year-old Jeter received a cortisone shot in the ankle last week and experienced soreness after getting just four at-bats in a minor league game a few days ago. He has to play a full nine innings at shortstop before being activated according to GM, so the target return date of April 6th seems optimistic.
"I know Derek extremely well," said Cashman to Chad Jennings. "I've been with him a long, long time, and I can read his face. And his face today tells me the reality of this circumstance is starting to sink in; that this disabled list situation might be necessary … We have to get him to be able to play shortstop. DHing for us isn't going to get him where we need to be."
In Jeter's place, the Yankees will use their beloved Eduardo Nunez as the everyday shortstop — "Nuney will play shortstop," said manager Joe Girardi flatly — which is something they've had to do before. The 25-year-old hit .339/.381/.525 with two homers, four steals, four walks, and four strikeouts in 17 games and 65 plate appearances as the regular shortstop while Jeter was on the DL with a calf problem in the middle of 2011, a performance that was awesome at the time and in no way indicative of how he'll play going forward.
For Nunez, this is pretty much the chance of a lifetime. Yes, Jeter will be coming back to claim shortstop at some point, but the Yankees have already made it clear they will use their captain at DH regularly just to get him off his feet following the surgery, especially against lefties. Nunez was expected to get those shortstop reps whenever Jeter served as the DH, but now he has a chance for regular and uninterrupted playing time. We overlook this stuff as outsiders, but players value the comfort of knowing when and where they're going to play. Being a bench player is hard.
The Yankees have played Nunez nowhere but shortstop this spring — he's gone 15-for-53 (.283) with no homers, five steals, six walks, six strikeouts, and three errors in Grapefruit League play — because they hope playing one set position will help improve his awful defense. They said it when they sent him down last year and they said it again when camp opened. The Yankees have worked to shorten Nunez's arm action in an effort to make the routine throws a little more routine, but who knows how that will take. It's a wait and see thing.
"We've been pleased with the way (Nunez has) went about his business," said Girardi, never one to throw his players under the bus. "He's worked very hard on his defense. He's swung the bat well. He's run the bases well. He provides a speed option that we really didn't have last year, a whole lot. You get him and (Brett Gardner) in the lineup, and it could create some problems."
Offensively, it could create some problems in a lot of ways. For one, Nunez ain't Jeter and he won't come close to the .316/.362/.429 (117 wRC+) batting line the Cap'n put up last year without a lot of luck. Heck, Nunez's best year in the minors was his .322/.349/.433 (116 wRC+) showing with Double-A Trenton back in 2009. Even hobbled and coming off ankle surgery, going from Jeter to Nunez is a downgrade. No doubt about it.
What Nunez gives the Yankees is speed. Speed and the ability to put the ball in play. Nunez steals bases with a better-than-average success rate — 38-for-46 (82.6%) in the show and 59-for-74 (79.7%) since resurrecting his career in 2009 in the minors — and both his strikeout (10.4%) and contact rate (88.2%) have been far better than average in his relatively short big league career. If sure he'll do a lot of first-to-thirding and stuff like that as well, which frankly the Yankees will need given their lack of power. Maybe he hits a few dingers, but I wouldn't count on it.
Like it or not, Nunez is going to play shortstop for the Yankees come Opening Day. The smart money is on him spending a lot of time there during the regular season as well, basically since Jeter is unlikely to make it through the season without more nagging soreness and inflammation. This is it right here, this is Nunez's big chance not only to show he can move beyond his defensive issues and prove he belongs in the big leagues, but that he can be a part of the Yankees going forward. Someone's going to have to replace Jeter one day and this is Eduardo's chance to get a head-start over everyone else.