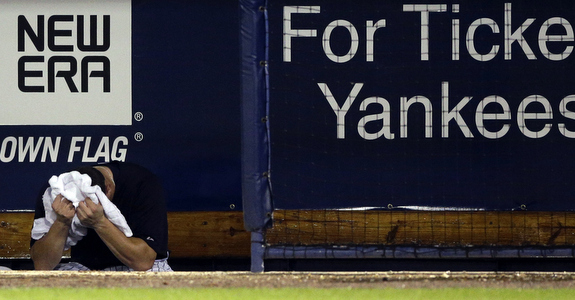 The Yankees got thumped by Robinson Cano and the rest of the Dominican Republic team this afternoon, just before we all learned Mark Teixeira will miss 8-10 weeks with a wrist strain. They were getting no-hit until Zoilo Almonte hit a two-run homer with two outs in the seventh — Yankees farmhands Vidal Nuno (four innings) and Juan Cedeno (one inning) contributed to that — and finished the day with as many hits as errors (two, both miscues by interim first baseman Dan Johnson). Fun stuff. The good news is Hiroki Kuroda was very sharp, allowing two hits and no walks in three shutout innings. He was hitting the corners with his fastball and getting whiffs on his splitter. That was good to see. Here's the box score and here's the rest from Tampa…
Mariano Rivera did not pitch today and will instead make his Grapefruit League debut on Saturday. The Yankees are on the road the next two days and Mo doesn't travel. In other Rivera news, he has left the team to attend to a personal matter in New York. He'll return in time for Saturday's outing. [Chad Jennings & Erik Boland]
Derek Jeter is happy with how his ankle has responded to increasingly intense workouts, but he needs to run the bases at full speed before appearing in a game. He won't put a date on when that may happen. [Andy McCullough]
David Robertson, who had trouble getting loose last night, has been cleared by a doctor and hopes to pitch in tomorrow's game. The Yankees also seem to give guys that one extra day, so I wouldn't be surprised if Robertson doesn't return until the next home game on Saturday. [George King]
Curtis Granderson (fractured forearm) was cleared to begin working out today. He can ride a stationary bike and lift with his legs, but he can't do anything with his right arm (duh) or anything that puts him at risk of falling (also duh). [McCullough]
Slade Heathcott (thumb) started hitting yesterday and feels fine. He said he plans to get back into a game on Saturday. [Chad Jennings]
The Yankees are on the road to play the Cardinals in Jupiter tomorrow afternoon, but that game will not be on television at all. No YES, no MLB.tv, no nothing. Adam Warren gets the start.
Here is your open thread for the evening. The Knicks and Nets are both playing tonight, plus MLB Network will air a game a little later on as well. Talk about whatever you like here, go nuts.