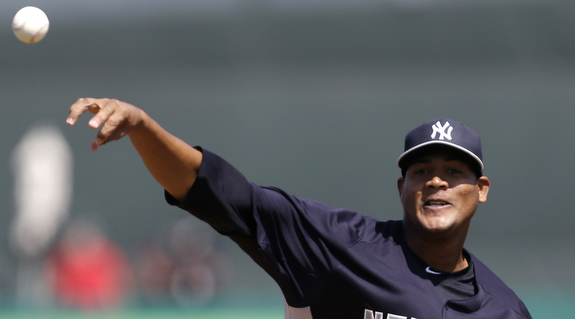 The Yankees lost to the Cardinals (via walk-off hit) this afternoon and believe it or not, Brett Gardner was actually held hitless. Chris Stewart and J.R. Murphy doubled while Ramon Flores, Ichiro Suzuki, Dan Johnson (first hit of spring!), Frankie Cervelli, Matt Diaz, Thomas Neal, Austin Romine, Ronnie Mustelier, and Addison Maruszak all singled. Cervelli and Mustelier also stole bases while Diaz was thrown out.
Ivan Nova allowed one run on three hits and a walk in his three innings of work, and even though it's only been two outings, he's already pitching better than he had last spring. He got crushed in camp last year but everyone was too busy paying attention to Michael Pineda's velocity. Brett Marshall got hit around a bit, surrendering three runs on five hits in four innings, including a pair of homers. Here's the box score and here's the rest from Tampa…
During a conference call with reporters, Mark Teixeira called his right wrist strain an "overuse injury" and said he won't need surgery because nothing is severely torn or displaced. He is wearing a soft cast but will continue to work out, including swinging a bat one-handed. The doctors won't let him do anything with the injured wrist until it is 100% healed to avoid a setback. [Dan Barbarisi & Jack Curry]
Travis Hafner apparently used a glove (!) and took some fielding practice at first base today, but Brian Cashman confirmed there is nothing to it. They will use Hafner as a DH exclusively. [Mark Feinsand]
CC Sabathia threw a bullpen session today and everything went just fine. "I feel pretty good, especially after today. I cut a few loose and had no pain," said the left-hander, who will throw a simulated game on Sunday. [Feinsand]
Derek Jeter visited Dr. Robert Anderson, who performed his left ankle surgery in October, in North Carolina for a routine and scheduled checkup today according to the Yankees. Joe Girardi said everything "went great" and called it "final clearance." The Cap'n is expected to be back in camp tomorrow. [Joel Sherman]
Phil Hughes (bulging disk) threw 15 pitches — using his actual pitching delivery and not just playing catch — on flat ground. Boone Logan (elbow) played catch on flat ground, making 38 tosses. David Robertson played catch for the first time since having trouble getting loose on Tuesday. [Associated Press]
The Yankees are still on the road in Jupiter and will play the Marlins tomorrow afternoon. Adam Warren gets the start. That game will be broadcast on MLB.tv only, but thankfully there are no blackout restrictions.
Here is your open thread for the night. All three hockey locals plus the Knicks are in action, and you've also got the World Baseball Classic on MLB Network. Robinson Cano's Dominican Republic team is facing Venezuela. Talk about any of those guys or anything else here. Enjoy.