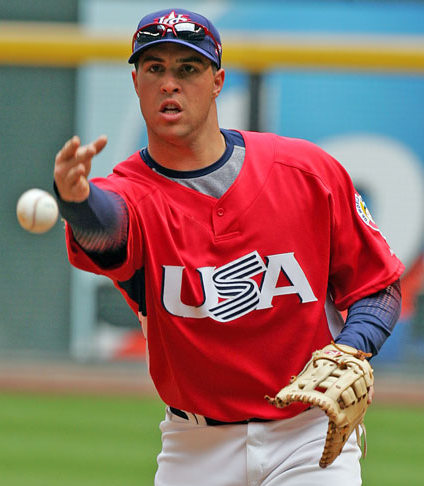 Barring some kind of unexpected trade, the Yankees are not going to be able to replace Mark Teixeira's production while he is out with his wrist injury. Say what you want about his declining performance — you're kidding yourself if you think he'll be easy to replace because of his typically slow starts — he was far better than anyone reasonably available as an alternative. The Yankees will simply have to weather the storm and hope they don't fall too far out of the AL East race while their first baseman (and center fielder) are on the shelf in April.
Given the in-house options, it seems like the best way to replace Teixeira is with a three-headed platoon. Kevin Youkilis is the common player here thanks to his ability to play either corner infield spot. Against righties, the Yankees could run with Youkilis at third and Dan Johnson at first. Against lefties, they could go with Youkilis at first and say, Ronnie Mustelier at third. Here are the numbers (from 2011-2012) for a real quick comparison:
Johnson vs. RHP: .291/.409/.549 in 678 PA
Youkilis vs. RHP: .227/.332/.395 in 719 PA
Mustelier vs. LHP: .305/.357/.506 in 183 PA
Youkilis vs. LHP: .294/.407/.528 in 307 PA
Johnson's and Mustelier's stats come from Minor League Central because they simply haven't played much (or, in Ronnie's case, at all) in the big leagues. That's going to be a problem pretty much no matter who the Yankees choose to replace Teixeira — they won't have much of a big league track record. Obviously Youkilis is a concern against right-handers, but we knew that at the time of his signing. Maybe his work with Kevin Long will improve that production, but I'm not counting on it.
Like it or not, Johnson's and Mustelier's performances will take a step back from those numbers with regular playing time in the show. If they could manage league average performances against pitchers of the opposite hand while Teixeira is on the shelf, I'd be thrilled. The Yankees would be getting approximately a league average performance from the two corners against righties and much better than that against lefties (thanks to Youkili)s. This is just offensively, remember. There's no way to replace Tex's defense.
Now that I think about it, it would probably be easier just to keep Youkilis at third the whole time and stick the defensively challenged Mustelier at first, but the Yankees like to make things unnecessarily complicated and this way they wouldn't have to worry about teaching him a new position. If they want to keep Youkilis at third, they could use Juan Rivera at first against lefties. He has seen more time at first in camp lately and actually played more games there (54) than in the outfield last year (46). Jayson Nix is another right-handed option, but he's a third baseman and more of a last resort than anything. Nice fill-in player but not someone worthy of a regular lineup spot, even against lefties.
The season starts in two weeks and two days, and right now I have absolutely no idea what the Yankees will do until Teixeira returns to the lineup. I'm guessing they don't have a firm plan in place either, but are probably leaning one way or the other. That kinda scares me. First base is one of the most important (arguably the most important) position in terms of expected offensive production, and right now the Yankees are holding auditions for an injury fill-in(s). It seems like an easy spot to fill, but no obvious solution stands out right now.