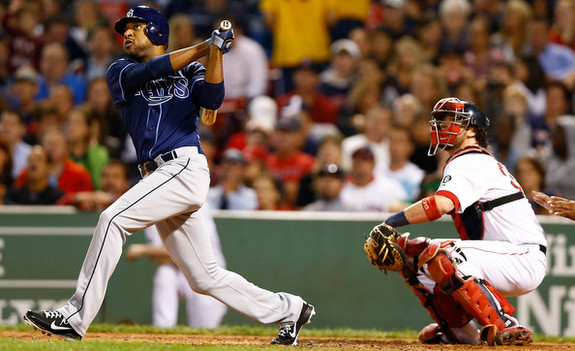 Add another body to the right-handed hitting outfield bat competition. The Yankees have signed Ben Francisco to a minor league contract, Brian Cashman confirmed to reporters in Tampa. The Indians released him earlier this morning despite an 8-for-20 showing in camp that included six doubles, five walks, and four strikeouts.
Francisco, 31, actually scored the first run in New Yankee Stadium history with the Indians back in 2009. He hit .240/.285/.385 (82 wRC+) with four homers in 207 plate appearances for the Blue Jays, Astros, and Rays last season, and over the last three years he's shown basically no platoon split: .247/.315/.408 (97 wRC+) against lefties and .252/.324/.380 (94 wRC+) against righties. Francisco is average at best in the outfield, though he has experience in all three spots. He's not much of a stolen base threat anymore either.
The Yankees had some interest in Francisco back in January, before he hooked on with Cleveland, and he'll now compete with veterans Matt Diaz and Juan Rivera for roster spot. In the wake of Curtis Granderson's forearm injury, I have to think at least one of those guys will make the team. Melky Mesa, Zoilo Almonte, Thomas Neal, and Ronnie Mustelier are also candidates. Considering the injuries and lost offense, there's no harm whatsoever in adding players on minor league pacts to compete for spots. The more the merrier.